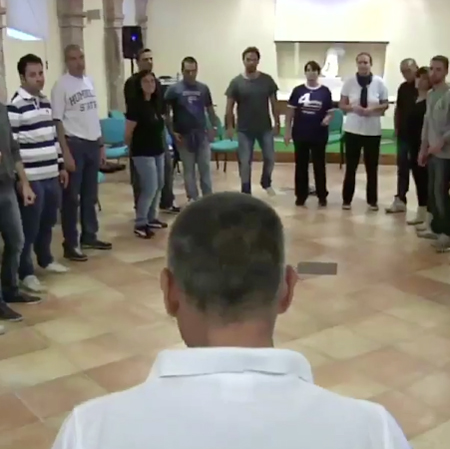 Body Percussion Workshop
We present our body percussion workshop as an original team building activity for your team incentive trip
Treat your party to a fun group experience where they will master the art of creating music by using their bodies
A unique and innovative workshop, designed as a powerful tool in boosting creativity and improving team communication skills
Guided by a music coach, your participants will learn how to produce harmonious rhythm together
Customised entertainment aimed to inspire and challenge your employees, presenting an exciting event set to impress
Body Percussion Workshop PHOTOS
Treat your party to a team building event to remember with our exclusive body percussion workshop, designed as an original team building activity for your team incentive trip, delivering a fun group experience and the ideal solution for your customised entertainment in Italy. 
We present a unique and innovative workshop, designed as a powerful tool in boosting creativity and improving team communication skills. A diverse team activity, proposing the use of music and rhythm, with the body as a means of aggregation, presenting a new and exciting method of approach to team building. 
Body percussion is a new practice that is gaining momentum in the world of team building, with the format enabling your group to practice many key skills, using only their bodies, creativity and love for music and rhythm. Forget the latest technology equipment and exotic locations, this workshop is all about slamming your feet on the floor, tapping your thighs with your hands and snapping your fingers! All participants will need are their arms and legs and a little creativity. 
Your guests will find themselves practicing the basic musical elements such as a beat or a rhythm. We offer the unique opportunity of hosting our dynamic workshop at a location of your choice, whether it be a meeting room for a conference or the cellar of our club. A professional music coach will accompany your group, guiding them along the way, demonstrating every detail of this original practice. 
An intuitively designed workshop developed as an educational tool, to help promote attention span, memorisation and concentration. Participants will take turns to be the conductor of the exercise in order to test their sense of adaptability, ability to learn new skills quickly and effectively and their sense of belonging to a team, working together towards one unified goal. 
Dynamic and stimulating, our body percussion workshop will provide a song sense of unity and group identity which everyone will be aware of throughout. Channelled through the fun and simplicity of musical development, creative thinking and rhythm skills, your team will find a new way to express themselves outside of their working environment, allowing the opportunity to enjoy the formative moment in the most direct and natural way possible. 
We present our Body Percussion Workshop as an original team building activity for your team incentive trip, offering customised entertainment aimed to challenge your employees, presenting an exciting event that stands apart! 
Practical Tips 
Maximum persons - unlimited 
Duration - two hours
Customisation available on request. 
Professional music coach provided for every workshop. 
Contact us at Scarlett today to talk about booking our Body Percussion Workshop for your corporate team day or personalised event.