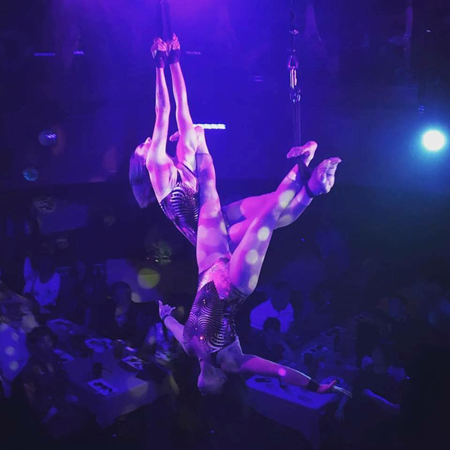 Body Trapeze Aerial Duo
Stunning and elegant aerial acrobats will amaze audiences with their innovative act
Breath taking and original aerial duo features one performing making a trapeze with her body while her partner spins and balances around her
Sensual and seductive body trapeze act will have audiences captivated
Ingenious and visually spectacular trapeze act perfect for circuses, stage shows and variety nights
Amazing aerial show available for performances worldwide
Book this stunning and sensual aerial duo for a breath taking and innovative act sure to impress audiences at any event. This unique body trapeze act features our incredible duo of performing a graceful aerial acrobatics routine using the human body as a trapeze. In this unique aerial show one of our female aerial acrobats forms a trapeze with her body while the other spins and twists around her in a breathtaking display of control, strength and precision. This uniquely intimate and passionate trapeze act is sure to get hearts racing as our duo twist and weave together, balancing against each other in a series of jaw dropping moves that have to be seen to be believed.
Guests will be captivated by this unique and seductive routine as our alluring female duo performs their daring and graceful choreography. For an aerial show like nothing you've ever seen book our stunning body trapeze act and give your guests a spectacular and memorable performance.
This sensational trapeze act features an amazing array of aerial balances and gravity defying positions… but without the trapeze! In this innovative and creative aerial show one of our aerial acrobats grips onto ropes suspended from the roof with her hands and feet while her partner uses her body as the trapeze in a breathtaking routine of stunning choreography and daring aerial acrobatics. 
This unique and attention grabbing act is just the kind of sizzling, seductive aerial act to have audiences hooked at stage shows, circuses and parties. Our talented aerial duo have performed their body trapeze routine all over the world and thrilled audiences everywhere, earning awards and accolades from the International Circus Festival Budapest and many others. 
Scarlett Entertainment offers you a fantastic range of skilled aerialists and acrobats to amaze audiences. 
To book our incredible Body Trapeze Aerial Dup and our other fabulous acts contact our expert team.