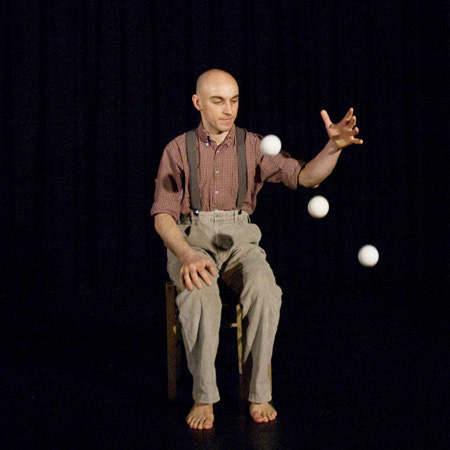 Bouncing Juggling Act
Extraordinarily skilled juggler uses bouncing balls to bring surfaces into act
Birthday-themed show has charming narrative of eccentric character
Suitable for all ages and nationalities as there is no language barrier
Charming act is suitable for a wide range of event types
London-based act available for bookings worldwide
Bouncing Juggling Act PHOTOS
Book our fun and friendly juggling act who uses bouncing balls to create amazing circus entertainment. The bouncing juggler tells a charming story of a man who discovers a box of juggling balls on his birthday and proceeds to become very good very quickly.
His ability to very accurately bounce balls means that the juggler's act can involve all manner of surfaces. The act involves a chair and a rostrum and sees him standing on a stack of the two, bouncing three balls off the two levels. 
Having perfected his skills over many years, the juggling act also presents some highly impressive feats by catching and balancing balls on his feet, even while moving around the space. Skills of this level do not come from idle interest, and it is clear that this circus entertainer is a dedicated professional. 
One of the more delighting elements of this show is its story. The bouncing juggler is not only a circus entertainer but character with charm and eccentricity. This well-honed performance is theatrical as well as impressive, and instantly likeable for audiences of any age. Due to the performance being wordless, and the focus of the story being universal, audiences of any nationality and age can appreciate it.
For an interesting, unique and entertaining juggling show, book our bouncing ball juggler. He's great for installations in any environment with flat ground such as shopping centres and festivals as well as creating a lot of smiles and laughs while performing onstage at parties and functions.
To book our this great bouncing ball circus entertainment, contact our dedicated entertainment experts today.