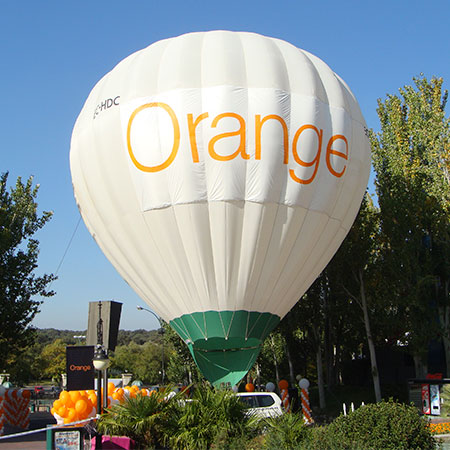 Branded Hot Air Balloons
Custom hot air balloons ideal for promotional events, product launches and many more
Ideal advertising tool for events and occasions taking place in the open
A hot air balloon experience perfect for families, group of friends and children
A two-hour hot air balloon flight that can be enjoyed by groups of two to six people at a time
Air ballon advertising and ballon rides are available for bookings across Spain
Branded Hot Air Balloons PHOTOS
Are you organising a product launch or a corporate event in the open? And are you looking for innovative and unique ways to advertise your brand or product? Then look no further. These Branded Hot Air Balloons are the perfect promotional tool for your event. 
By booking custom hot air balloons, you can provide your event's attendees with an unforgettable experience. Both children and adults will have the opportunity to experience something different together during a fun day outdoors. 
These custom hot air balloons require a 40m x 40m space to be assembled. Your event's attendees can witness how balloons are inflated and queue up in order to participate and become passengers of this memorable hot air ballon experience. A professional pilot will sail through the air and guide participants towards a flying adventure they will never forget. 
The balloon's baskets has holding capacity of two to six people at a time. During two hours, those who would like to participate could do it in different groups and have the experience of flying with their friends or family. This service includes unlimited flights for a period of two hours. 
The price of our custom hot air balloons include:
Personalised banners 
Two-hour hot air balloon service
Balloon pilot
Unlimited ballon rides during booking period
Balloon rides in Spain are available for bookings in different locations across the country. Enquire about out Branded Hot Air Balloons today by contacting our wonderful team of entertainment experts. They will be happy to answer all your questions and guide you through the booking process.