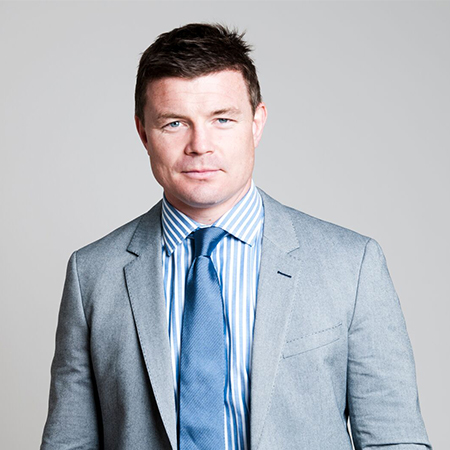 Brian O'Driscoll Rugby Captain
Brian was the captain of the Ireland Rugby team and also captained Leinster Rugby and the British and Irish Lions
Highest try scorer of all time in Irish Rugby and the 8th-highest try scorer in international history and the highest scoring centre of all time
He holds the Six Nations record for most tries scored with 26 and has scored the most Heineken Cup tries (30) for an Irishman
At events and conferences, Brian engages with the audience in his own personal way so the event feels intimate as well as professional
Brian's Q&A sessions can be developed bespoke for each client as he can create an engaging, insightful and audience-led experience for all
Brian O' Driscoll is a former Irish professional Rugby Union player.
He was the captain of the Ireland Rugby team from 2004 -2012 and captained Leinster Rugby from 2005 until the end of 2008 season. He captained the British and Irish Lions for their 2005 tour of New Zealand. Registered at University College Dublin RFC, he played at outside centre for the Irish provincial team Leinster.
Throughout his career, O'Driscoll played 141 test matches - 133 for Ireland (83 as captain), and 8 for the British and Irish Lions. He scored 46 tries for Ireland and 1 try for the Lions in 2001, making him the highest try scorer of all time in Irish Rugby. He is the 8th-highest try scorer in international rugby union history and the highest scoring centre of all time.
O'Driscoll holds the Six Nations record for most tries scored with 26. He has scored the most Heineken Cup tries (30) for an Irishman. O'Driscoll was chosen as Player of the Tournament in the 2006, 2007 and 2009 Six Nations Championships.
His final appearance for Leinster, and for any team, was in the 2014 Pro12 Grand Final on 31 May in Leinster's home ground, the RDS in Dublin, where Leinster defeated the Glasgow Warriors 34-12.
He now works in a number of different capacities both in sport and in the business world. 
Brian engages with the audience in his own personal way. Over time and with experience, he has developed a niche product -  An intimate private chat between Brian and an audience that is moderated by a professional journalist.
 
The discussion takes approximately 25 minutes and audience questions are welcomed then for a further 20 minutes. Brian uses his own experience giving insights on a wide variety of topics including:
Team Building
Culture
Personal Development
Leadership and Planning 
The Q&A can be developed bespoke for each client and creates an engaging, insightful and audience-led experience for all
If you would like to check Brian's availability, contact us today and make an enquiry.