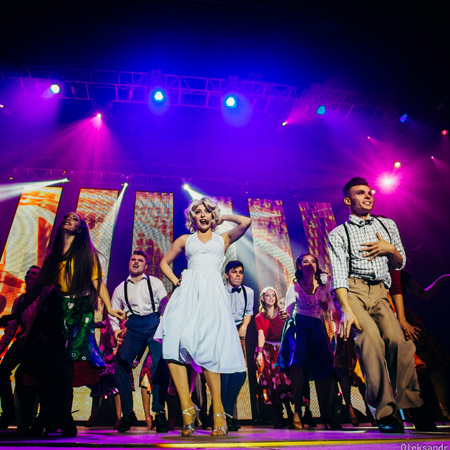 Broadway Show
Incredible live music entertainment in the ultimate musical tribute show
Bring everyone's favourite Broadway shows to your special occasion
Professional dancers and singers in various line ups tailored to your event
Ideal for theatres, corporate functions, festivals, themed occasions, etc.
Available to hire for events in Kiev and throughout Ukraine
An all-singing, all-dancing extravaganza, our brilliant musical tribute show is guaranteed to add instant wow factor to your event as this high end stage production brings you the ultimate combination of everybody's favourite Broadway shows.
Featuring some of the most exciting and dynamic moments from many of the world's greatest musicals, this unique theatre show merges everything from the fiery rhythms of flamenco to the rhythmic melodies of jazz, and includes symphony orchestras one moment and rock bands the next! Comprised of professional musicians, talented cabaret dancers, and gifted vocalists, our brilliant cast bring you exceptional live music entertainment that makes for an unforgettable occasion.
A unique stage show, this brilliant tribute to Broadway contains hits from legendary musical shows such as 'Burlesque', 'Notre Dame de Paris', 'Cats', 'Phantom of the Opera', 'Cabaret', and 'Mozart, l'Opera Rock', bringing you varied and compelling event entertainment. Available to book for events in Kiev and throughout Ukraine, this West End style show is ideal for festivals, themed events, theatres, gala dinners, and awards ceremonies.