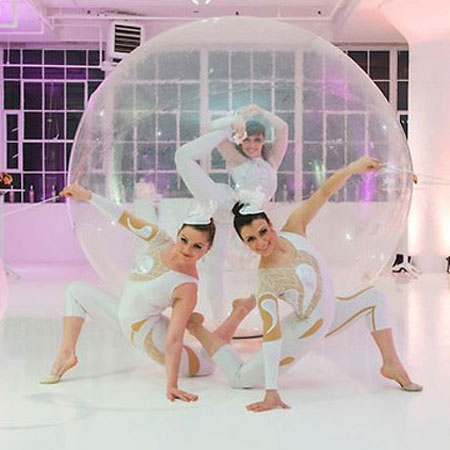 Bubble Contortionists
Highly trained acrobats and gymnasts perform in zorbs creating wonderfully diverse bubble entertainment
Zorbing acrobats showcase advanced skill all whilst being inside a giant bubble
Can be performed in a venue or on water to create a really versatile act
Bubble contortionists can be adapted to a theme whether it be circus themed, winter wonderland-themed or a bubble filled with feathers
Based in New York and available for worldwide bookings
Bubble Contortionists PHOTOS
Book our highly trained acrobats and gymnasts for the ultimate bubble entertainment. Our zorbing acrobats with WOW audiences with their impressive gymnastic skills as they contort their bodies to form intricate shapes that look stunning inside their giant bubbles.
An extremely versatile act that can be adapted to a theme to suit your event perfectly whether it be for a winter wonderland event, circus themed event, elegant private parties, corporate events or product launches. 
Our bubble contortionists can perform their act on water for a stunning act that provides a WOW factor attraction as well as filling their bubbles with coloured confetti, feathers, rose petals, playing cards, snow and everything in between to provide a more customised performance that suits your event perfectly.
These zorbing acrobats and gymnasts can perform as a solo or a duo to create a more diverse and dynamic act to behold. Not only can our bubble contortionists customise their act through props such as feathers but LED lights can also be added to create a visually stunning performance that is extremely impactful. In addition to adding additional factors such as fake snow into their performance this act is perfect for winter wonderland entertainment as the bubbles are made to look like snow globes, resulting in an intricate and visually stunning element to add to your Christmas or winter themed event.
Our zorbing acrobats provide fantastic bubble entertainment as not only do they offer breath taking performances but the gymnasts and acrobats are also available as roaming entertainment that can meet and greet guests, serve food and drinks whilst performing jaw dropping stretches and can welcome guests with rythmic ribbon displays.
With an extensive client list these wonderful acrobats have performed for celebrities such as Kim Kardashian, Lady GaGa, Conor Mcgregor and also have performed for TV shows such as Celebrity Apprentice, Power and Younger. This truly is a new way of watching an acrobatic act that is fascinating and gripping to watch and is the ultimate form of bubble enterainment that can be fully customised to your event.
To book our diverse Bubble Contortionists, contact our Entertainment Specialists. 
Celebrity Apprentice - TV Series
Coty Inc
ESPN
Foot Locker
Gansevoort Hotel
Guns N Roses
Lady Gaga
Lord & Taylor
Outfront Media
People En Espanol
Puff Daddy
Rick Ross
Sirius Satelite
Sony
Tagheuer
Toyota
Uncf
Webmd
Zefr Technology
Artistic Tile
Conor Mcgregor
Democratic National Convention
Empire of the Sun
Four Seasons Restaurant
Google
Kim Kardashian
Liquidnet
Ny Stock Exchange
Patricia Field
Power - TV Series
Radio Andy
Sillam Jewelry
Smirnoff
Swatch
Thumbtack
Tzell Travel Group
Wework
Younger - TV Series
Blue Fin Restaurant in Times Square
" Your acrobats were amazing at my son's Bar Mitzvah! You nailed it with their costumes! "

A. Hansburg, Bar Mitzvah
" The performers were great. They were organized, self sufficient, and extremely entertaining. I definitely recommend them. "

R. Fowler, National Gay and Lesbian Chamber of Commerce
" It was the most unique presentation of jewelry we've ever seen! "

Henri J Sillam Jewelry