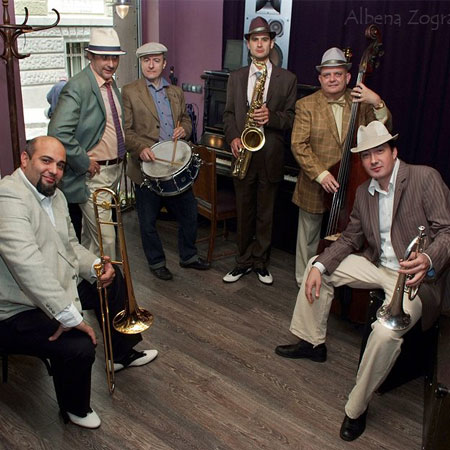 Bulgarian Jazz Band
Award Winning musicians perform amazing jazz laced covers and originals
High in demand as performers for jazz festivals and concerts
Considered to be one of the prime movers of modern jazz in the country
Highly charged entertainers, they mix music with a healthy dose of humour
Based in Sofia and available to perform at events worldwide
Bulgarian Jazz Band PHOTOS
Composed of six highly talented and well respected musicians, this Bulgarian Jazz Band is considered to be one of the prime movers of modern jazz in the country.
Their versatility is evident in the way they have infused jazz into every song they play - from standard to classical songs and even popular Italian music. Their jazzy arrangements of songs and musical pieces showcase their love and passion for the genre.
Their first album, featuring original compositions as well as covers of songs and classical piece, is also homage to the enduring energies of jazz.
High in demand as performers for jazz festivals and concerts, they have played in theatres, corporate events, hotels and lounges, as well as private events and functions. Aside from being talented musicians, the band are also wonderful, highly charged entertainers, mixing music with a healthy dose of humour and showmanship.
With Bulgarian Jazz Band at the helm of the entertainment program, the event is sure to be a resounding success!