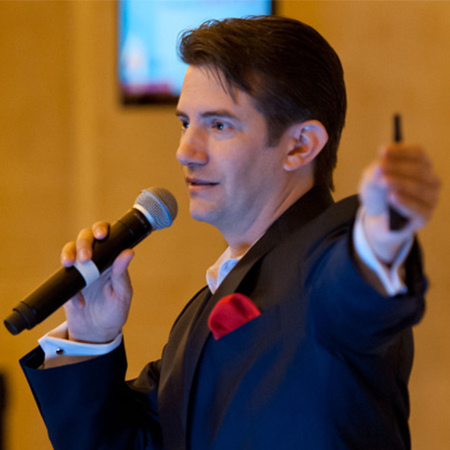 Business Speaker Dr. Woody
Inspiring keynote speaker specialisedsin how to make the work experience better by leading a healthy life
Well-known as a 'workologist', experienced keynote speaker and business management expert
Offers custom workshops and seminars on his own and with his partner the Hindy
Have helped managers develop a fruitful career from renowned brands such as Bayer, McDondalds, Google, The NBA and NASA
Book Business Speaker Dr. Woody for international events and conferences
Generally known as Dr. Woody, Michael Woodward is an American keynote speaker, executive coach and media personality who specialises in organizational phycology.
Renowned for training big companies CEOs and Directors to become better managers, Dr. Woody talks and workshops are mainly based on how to find the right balance between a productive working life and satisfying leisure time. Well-known in the industry as a 'workologist', this business management expert provides fruitful talks during which he'll discuss how to deal with the workplace and daily life challenges we all face.
Author of 'The YOU Plan', an Amazon top selling book and his most recognised work, this experienced keynote speaker started his career as a human resources consultant and eventually became a project manager at IBM Global Business Services. Dr. Woody took a break on his career to study a PhD in his real passion: psychology. After his return to university, he founded his own consulting firm and ever since  has been helping business leaders and new managers to develop their careers.
Based on the principle that a productive working career is only achievable by leading a healthy life, he proposes methods and techniques to make the work experience better. This business management expert usually offers workshops and talks with a former Hindu monk during which they educate attendees on how to reduce stress, enhance productivity and taking care of your well-being by practicing meditation.
Both lecturers and trainers provide simple tips so leaders and executives practice focused breathing, visualization and a positive mindset.
Business Speaker Dr. Woody Dr. Woody has participated as a guest speaker and work-life expert at many TV shows such as the TODAY show with Regis & Kelly, Fox & Friends and CNN International, to name a few.
He has also given lectures, workshops and seminars for executives and leadership teams from companies such as Bacardi, the Miami Herald or Sugar Foods Corporation. Our experienced keynote speaker and coach has also trained managers from Bayer, Bose, McDonalds, NASA and The NBA.
His modern-day psychology approach is underpinned by the following principles:
Building leadership teams
Transitioning into management
Creating vision
Influencing action
Dealing with tough personalities
Dr. Woody offers custom workshops, sessions and seminars as a business speaker, coach and organisational psychologist both on his own or alongside his partner, The Urban Monk, AKA Pandit Dasa.
To book our fantastic 'workologist', business management expert and experienced keynote speaker, contact us today and make your enquiry. 
Bayer
Contintental
Lawrence Livermore National Laboratory
NBA
Transamerica
EY
Visa
Allstate
Comcast
Grey Goose Vodka
NASA
The Miami Herald
Workshops with Hindu monk:
Duke University
Verizon
Bacardi
Century 21 Real Estate
Ernst & Young
McDondalds
Sugar Foods Corporation
Citi
Harvard University
World Government Summit
Bose
ETS
Liberty Mutual
SAP
Verizon
Chase
Google
Wolrd Bank Group