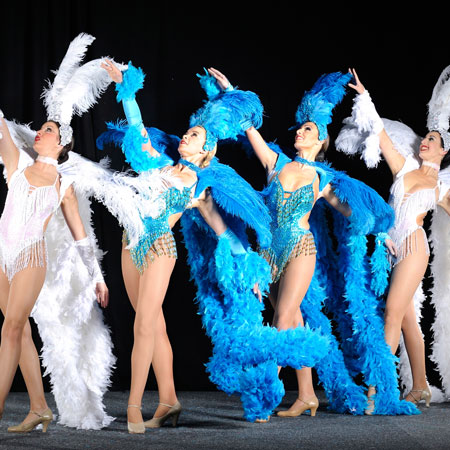 Cabaret Dancers
Fast paced shows with eye catching costumes & high impact choreography
Custom made dance shows, costumes can reflect company's brand name/colours
Themes & shows inc Las Vegas / Can Can, Rock n Roll, 1920s / Charleston
Previous clients inc BBC, British Airways, Chelsea FC, Tesco, Hilton
Based in the UK and available to perform at events worldwide
Cabaret Dancers was formed in 2004 and has gained a highly professional reputation. Cabaret Dancers continues to provide high quality but affordable entertainment and presentation services to all kinds of companies throughout the United Kingdom and Europe.
Their recent international corporate events include Vegas Showgirls performing in Africa, Ribbon dancers performing in Oman U.A.E and five star hotels throughout India and Tanzania, Africa with their explosive cabaret show.
Original and eye catching costumes and combined with high impact choreography, their fast paced shows storm any venue or event!  They can provide shows with anything from 2-12 dancers, to fit in with your budget and size of stage/venue.  They can also offer custom made dance shows and can produce a show for you to meet your exact requirements. Their costumes can reflect the company's  brand name, or colours, for example with their work for British Airways they select the colours red, white and blue so that your company or product received the best publicity possible.
Las Vegas Show Girls
Their Las Vegas Showgirls will bring colour, sparkle and glamour to your event, providing show stopping entertainment and greeting your guests on arrival.
They specialise in wedding entertainment, corporate events and private parties and can find something for every budget. Whether you require a couple of Vegas showgirls greeting your guests as they arrive or a full floor show they can make your event memorable.
Their showgirls have recently performed in Tanzania at a high profile event and across the UK.
Cabaret Dancers only use the most professional, well trained dancers. Most of their dancers have performed on cruise ships or performed in theatre tours.  They regularly hold auditions to ensure that they keep up their high standards and have a wide selection of dancers within their shows.
Weddings/Civil Partnerships
Cabaret Dancers can choreograph your first dance for your big day. Their dancers are the perfect choice to entertain your guests, performing our spectacular choreography and getting the party started.
They can incorporate you both into one of their fabulous Las Vegas routines with their dancers creating an unforgettable performance! You may just be looking for a couple of their showgirls to welcome your guests and to bring Las Vegas to your special day.
Themes and Shows
With an extensive and ever-expanding repertoire of themes and shows for any occasion,  Cabaret Dancers can help make your event into the most talked about of the year. Whether you require a splash of spectacular for your product launch or their Vegas showgirls welcoming your guests, no job is too big or too small. They often produce custom shows for your special events which can complement and promote your brand.
To book this act, please contact our team at Scarlett Entertainment.
Las Vegas / Can Can
Their high kicking Can Can dancers and glamorous vintage Parisian dancers are sure to set the scenes at your event
Latino
A wonderful variety of exciting fun and energetic dance routines and colourful showstopping costumes.
Rock n Roll
Our energetic rock n roll dancers will have everyone on the dance floor. Available as a group of female dancers of dance couples.
1920s / Charleston / Flapper Girls
Our fantastic flapper girls will show your guests how the Charleston is performed and will even teach them some steps too!
Themes & Shows
Pirates of the Caribbean
Cheerleading
70s
Charleston / Roaring twenties
Indian / Bollywood
Street Dance / Hip Hop / MTV style
Freestyle
Hula Dancers / Hawaiian
Grease
Chicago / Broadway
Arabian Nights
Wild West
James Bond
Other Popular Themes
BBC Breathing Place
Breast Cancer Research
Butlins
Cedar Court Hotel
Galaxy Radio
Hilton
Intercontinental Hotel and Resorts
The Landmark Hotel
Marriott
M Hits
Olympics
Pontins
Ricoh
Sheraton Hotels and Resorts
Thistle
Village Hotels
Alea Casino
British Airways
Birmingham City Council
Chelsea Football Club
Fairtrade
Grosvenor Hotel
University of Hull
Jet Airways
Liquid Nightclub
Motor Show
Nottingham Gateway Hotel
P&O Ferries
Royal Air Force
Sainsbury's
Tesco
Travelscope
Z Network
BBC
" The girls were punctual, beautiful, professional and helpful. The meet and greet and photos was a wonderful event because the girls were there. People that usually run from cameras were rushing to have their photo done with the girls. Thanks to them I have a photo record of all my guests. The dance routine was professionally done and was enjoyed by all my guest from 80 to 14 yrs. Their friendlieness was wonderful and they made me feel relaxed. I cant thank them enough for their contribution to the best 50th Party ever. Thank you "

Mary Cornforth, Birthday Party Event
" These ladies were fantastic. They were used as a surprise act and their performances had the whole room gasping! Their first performance was in Vegas Showgirl style, and the second was the Can Can. The guy's jaws were on the floor, and the ladies were amazed at their abilities! They added just the right amount of fun and glamour to our event and all delivered with big beaming smiles. My clients were totally impressed and loved the audience participation. From my perspective, their professionalism was excellent, they arrived in plenty of time to liaise with the other entertainers we had performing that night and they dazzled the party to perfection. We will definitely use these ladies again. "

Victoria James Events
" I would like to thank you for an excellent performance over the two days at Motorshow Northwest 2004. From my initial telephone conversations with Lois regarding 10 different dances and 10 different costumes to promotional photo opportunities, they performed with professionalism and flair during the event, pleasing the crowds and our clients. The dancers are superb, and I would recommend them to any prospective client. "

Specialist Project Manager – The Motorshow