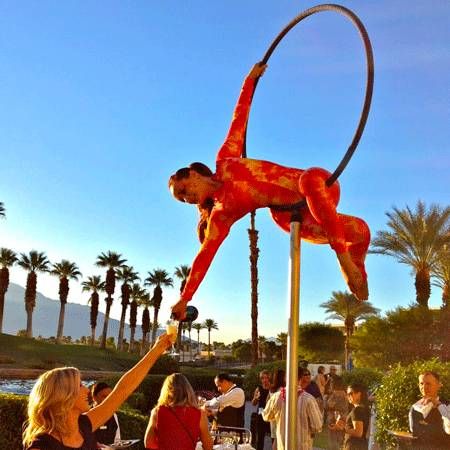 California Lollipop Aerialists
Stunning California Lollipop Aerialists dazzle guests with ambient routines and striking costumes
Also available as champagne aerialists our freestanding hoop enables our event aerialists to serve your guests from above
Can customise their costumes to complement your colour scheme and theme
Perfect for corporate events, private parties, cocktail hours, gala dinners and more
Based in California and available for worldwide bookings
California Lollipop Aerialists PHOTOS
Our stunning California Lollipop Aerialists dazzle guests from above and boast exceptional event entertainment that is of the highest calibre and guaranteed to provide an interactive experience for all to enjoy.
Performing ambient routines from their pole hoop our California Lollipop Aerialists weave in and out of their hoop, performing stunning poses and acrobatics from above. 
In addition to performing outstanding aerial routines our event aerialists can be booked as champagne serves, waiting on your guests and pouring their drinks from their pole hoop making for interactive event entertainment that goes above and beyond for exquisite service.
Top Tip:
Our California Lollipop Aerialists can customise their performances to suit your event and can also adapt their costumes to complement your colour scheme and theme. Our aerialists also perform the Lollipop in Las Vegas and in Phoenix and can fly anywhere with the equipment.   
Guaranteed to provide exceptional event entertainment our event aerialists can perform almost everywhere with their freestanding hoop making for ambient entertainment that is perfect for all occasions whether it be a corporate event, private party, themed occasion, gala dinner or cocktail hour. 
Perfect for venues who cannot accommodate aerialists to perform from a structural beam or rigging point, these California Lollipop Aerialists are a fantastic option that is guaranteed to enhance the overall impact of an event and create a relaxing ambience for attendees. 
If you would like to explore more exceptional performance options from our event aerialists head over to our Floating Stage Performers, Bubble Spheres and Freestanding Aerial Rig pages.
To book our remarkable California Lollipop Aerialists or for more information about booking aerial acts for your next event, contact our helpful team of Entertainment Specialists today.