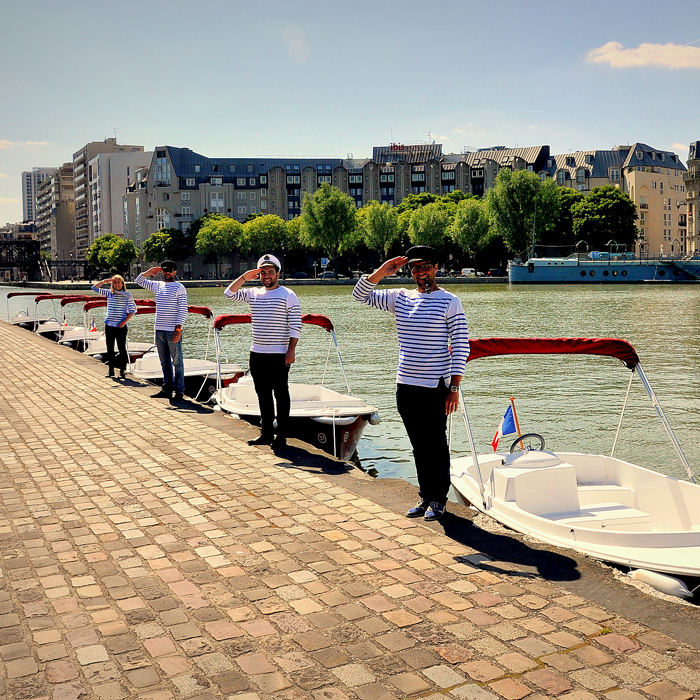 Canal Boat Tour Paris
Invite your party to discover the French capital, enjoying the Parisian canals in style with our self-drive boats
We promote our Canal Boat Tour as an original team building activity, taking place in the heart of the Parisian canals
Fun and insightful - your guests will have chance to view famous landmarks whilst cruising along the waters
We offer our unique Canal Boat Tour as an unusual cruise and unbelievable experience in Paris
Our custom-made group tour will be sure to deliver a memorable experience, allowing your customised entertainment stands apart
Canal Boat Tour Paris PHOTOS
How will your group handle themselves on our impressive self-drive electric boats? Our exclusive Canal Boat Tour presents a great opportunity to test your teams skills on the waters. Allow everyone to climb aboard for the perfect team building activity and group tour experience for an incentive trip to remember. We promote our custom-made tours as the ideal solution for your customised entertainment in Paris. 
 A truly original Canal Boat tour will deliver an unusual cruise and unbelievable Parisian experience!
Our unique vessels, with a capacity of eight per boat, have an elegant shape, allowing for your party to discover the French capital and enjoy the Parisian canals in true style! The electric propulsion is environmentally friendly and our boats are totally silent, enabling your group to have a relaxed canal cruise in a self-drive boat. Each group will be accompanied by a professional tour guide offering a real insight into the history and culture of the city. 
We provide our Canal Boat Tour P as an original team building activity, taking place in the heart of the Parisian canals. Fun and insightful - your guests will have the chance to view famous landmarks whilst cruising along the waters. 
Offer your party a team incentive trip like no other, taking place the heart of the city on the scenic Parisian canals. Our intuitively developed group tour will be sure to deliver a memorable experience for everyone involved, with endless photo opportunities, promoting fun and laughter throughout. 
Why not complete your day with our captain's recommendation and organise a closing cocktail? With the option of sitting aboard your boat or on our beautiful 100m squared floating deck, you can enjoy drinks and appetisers surrounded by the Parisian canals, presenting a once in a lifetime experience for your tailored event. 
Allow your customised entertainment to stand apart with with our fun-filled Canal Boat Tour! We offer the unique opportunity to prepare tailor-made tours, working to your specific brief, dedicated to providing the perfect solution for your personalised event and corporate hospitality in Paris. 
Practical Tips 
Duration - 2.5 hours (tours can be adjusted in terms of length and starting/end point)
Maximum persons - 8 per boat
24 boats available 
Professional tour guide with every group tour
We provide all of the electric self-drive boats for your customised Canal Boat Tour
We have various options for welcoming including coffee, aperitif buckets or aperitif on the deck
Contact us at Scarlett today to talk about booking our Canal Boat Tour Paris for your corporate team day or personalised event.