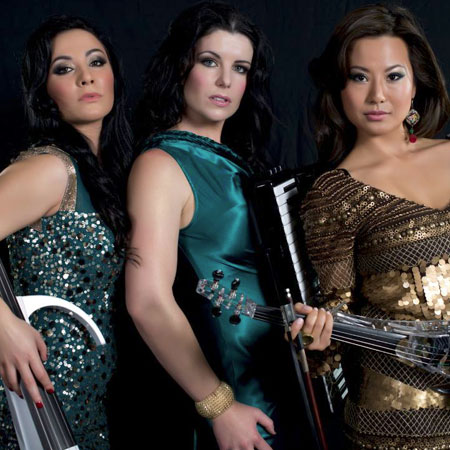 Cello, Violin & Accordion Trio
Amazingly talented and beautiful female trio based in New Zealand
Feature electric cello, violin & digital accordion
Perform an eclectic mix of modern genres fused with world music
Bring a unique, vibrant sound & dimension to the music scene worldwide
Popular with corporate events, product launches, exclusive parties
Cello, Violin & Accordion Trio VIDEOS
Cello, Violin & Accordion Trio PHOTOS
A New Musical Phenomenon Has Exploded
Together Tracey Collins (Accordion) Tamara Djordjevic (Cello) and Yoomia Sim (Violin) are the amazingly talented and beautiful musicians that make up this Auckland based instrumental group.
The professional female trio was formed in 2011 to bring a fresh sound and dimension to the music scene worldwide. Following the international phenomenon and success of classical crossover female string quartets and trios that launched over the last decade, their originality, instrument choice, sound compositions and presentation style is unique and vibrant and shatters what has become the normality for "traditional" female quartets and trios.
The combination of Electric Violin / Electric Cello / and Electric Digital Accordion creates an amazing new dimension and pushes once again the boundaries, ensuring that these glamorous and provocative young women stand out from what has gone before.
The flexibility created by the combination of instruments allows Tracey, Tamara, and Yoomia to forge and bring their own new unique sound to their original compositions and also a new depth of enjoyment and listening experience to other pieces that they cover. Utilizing the possibilities of merging strings and Accordion, along with their own naturally energetic talents, creates a dazzling contemporary act.
Not content with just following the crowd and replicating classical crossover / pop genre, the trio create original compositions that take in all elements of these styles but further expands into the amazing versatility that truly is best described as a mix of modern genres fused with world music.