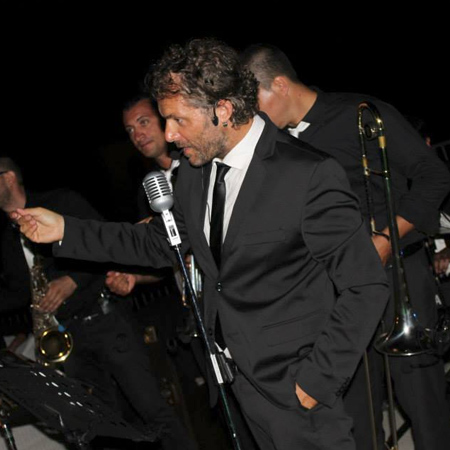 Chicago Style Swing Band Amalfi
8 talented musicians all established on the Salerno/Naples music scene
A Chicago style performance full of the biggest swing hits of all time
High energy show including improvisation & interaction with the audience
Includes male vocals, sax, trumpet, trombone, piano, percussion, bass...
Based in Salerno & available to perform at events throughout Italy
Chicago Style Swing Band Amalfi VIDEOS
Chicago Style Swing Band Amalfi PHOTOS
This Italian Swing band consist of eight talented musicians (male vocalist, sax, trumpet, trombone, piano, percussion, bass and drums) all established on the Salerno and Naples music scene, who have a passion for music and a love of entertaining which is obvious in their high impact, sassy swing sound.  
Their performance, in full Chicago style, includes the biggest swing hits of all time by great artists such as Michael Buble to the overwhelming rhythms of Paolo Belli.  Their repertoire is rich and varied and can include many other pleasant surprises including traditional Italian pop rearranged in a swing style.
Always dressed in suits and ties, this band's clean-cut, handsome looks fit with even the most prestigious functions.  Their performance is an explosion of pure energy, with the musicians at their best when improvising, playing among the spectators and interacting with the audience.
This sensational swing band has all the musical ingredients to make your wedding, dinner function or private party truly memorable.
My Way
What A Wonderful World
Don't Worry Be Happy
You Are The Sunshine of My Life
Sex Bomb (Latin Version)
Moondance
That's Amore
Bésame Mucho
Via Con Me
Eri Piccola
Estate
E Se Domani (Mario Biondi Version)
Resta Cu'mme
Garibaldi Innamorato
Rosalina
Spaghetti a Detroit
L'Anno Che Verrà
Signorina Mambo
Mambo Italiano
Quizas Quizas
Per Colpa di Chi
Diavolo In Me
Isn't She Lovely
Never Can Say Goodbye
Long Train Running
I Will Survive
You Make Me Feel (Like A Natural Woman)
Cheek To Cheek
The Lady Is A Tramp
The Look Of Love
Fragile
Rehab
New York New York
Yesterday
Back To Black
Imagine
Take The "A" Train
Song For My Father
Body and Soul
The Days of Wine and Roses
I Mean You
Night and Day
Fallen
I Say A Little Prayer
Garota de Ipanema
Figli Delle Stelle
Eppur Mi Son Scordato Di Te
Acqua Azzurra Acqua Chiara
La Mia Band Suona il Rock
Banane e Lampone
Su Di Noi
Se Mi Lasci Non Vale
Ho In Mente Te
Spiderman