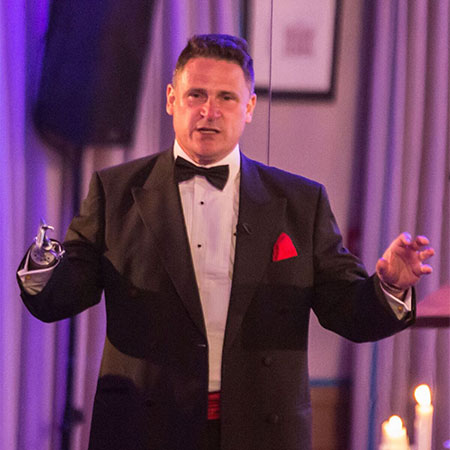 Chris Moon
Former British Officer with a truly motivational life story who has a proven track record of delivering high impact presentations
Shares experience on the balance of life and death and the limit of human endurance
Was taken prisoner in Cambodia and negotiated his own release with the most ruthless terror groups
World's first amputee ultra-distance runner, as a motivational speaker he delivers passion, humour and inspiration
Chris Moon is based in London and available for bookings all over the UK and worldwide
Chris Moon exists to help people do what they do better, drawing on his unique experiences to illustrate principles people can use in their daily lives. He's one of the most fortunate people to be alive you're likely to meet and should be dead many times over.
Chris is a former British Officer who left the Army to work for a charity clearing landmines and unexploded ordnance. He's one of the few Westerners to survive being taken prisoner in Cambodia by the Khmer Rouge (one of the most ruthless terror groups in history). He negotiated his own release and that of two colleagues. Two years later, when working in a remote part of Mozambique, he was blown up walking in a supposedly cleared area losing his lower right arm and leg. To survive he treated himself in the minefield. His doctors said they'd never seen anyone survive with such a small amount of blood. 
Less than a year after leaving hospital, he successfully completed the London Marathon and became the world's first amputee ultra-distance runner when he completed the gruelling Marathon Des Sables. Since then, he's completed many of the toughest ultra-distance races in the world, including the Badwater 135 mile Death Valley run in the hottest place on earth.
When it comes to challenging the concept of limitation, adapting to change and overcoming adversity, Chris walks the talk. He has a proven track record of delivering high impact presentations, helping to change behaviours and improve performance.
As a motivational speaker, Chris delivers passion, humour and inspiration. He shares experience on the balance of life and death and the limit of human endurance, which strip away any pretence we have as human beings to allow us to use his principles to do what we do better. These have academic rigour behind them from his Masters in human behaviour and work with psychologists and psychiatrists. Chris Moon is a truly international British inspirational speaker who has worked with diverse cultures, businesses and governments around the globe. 
Speaking Topics:
Change
Motivation
Risk and safety
Communication
Improving sales
Diversity
Personal and strategic leadership
Scarlett Entertainment offers a variety of after dinner speakers for events in the UK and all over the world.
If you would like to book Chris Moon as an after dinner speaker of motivational speaker for your event, conference or dinner, then contact us today and make an enquiry. Our wonderful team of Entertainment Experts will be more than happy to provide further details on this British inspirational speaker and guide you through the booking process.
Barclays
Cisco
IBM
London Business School
Samsung
BMW
British Gas
Google
John Lewis
NHS
Zurich
Bank of Scotland
" The messages were spot on and really resonated with our team. It certainly echoed the messages we were trying to convey. I would have no hesitation in recommending Chris to others as a great motivational speaker. "

Direct Line Group
" The teams haven't stopped talking about it and the feedback we have received has been tremendous. It really hit the mark leaving everyone motivated and ready to go the extra mile. "

British Gas Sales
" Huge thanks to Chris for hosting a great 'Performance Under Pressure' Wellbeing seminar. Powerful insight into nature of humanity. "

Lloyd's of London
" Thank you for the time and effort you personally put into our Health & Safety event. We've received excellent feedback about your speech and it has left our team with plenty of food for thought. "

Skanska UK
" It truly was inspirational to hear your story and own versions of positivity and dealing with difficulty. His presentation fitted extremely well with our theme of Winning Mentality, leaving our people feeling inspired and motivated "

Henley Investments