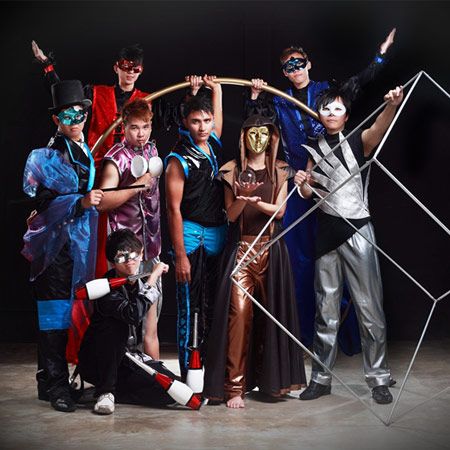 Circus Extraordinary Singapore
A contemporary circus variety show with 8 amazing acts
Featuring the Cyr Wheel, Giant Cubes, Fire twirling and much more
Create geometrical illusions using props spun at high speed
Proud to be the first company in Singapore to perform the Cyr wheel
Based in Singapore and available to perform at events worldwide
Circus Extraordinary Singapore PHOTOS
Circus Extraordinary is a contemporary circus variety act, based in Singapore, specialising in visually captivating circus art put together by 8 amazing acts which include.
Highly Skilled Juggling Act
Highlights of the show include the dangerous stunt Fire Twirling act and the Giant Cube and pyramids which are spun at high speed to create geometrical illusions.
The grand finale of the Circus Extraordinary features the Cyr Wheel, a human size wheel, with a performer rolling the wheel from the inside to perform his amazing stunts.
The Circus Extraordinary specialise in inventive live performances and the creative use of geometrical shapes to perform their original circus acts. They take great pride in being the first company in Singapore to perform the Cyr Wheel, the Giant Cube and the Ultra Violet pyramids in a series of events such as the Esplanade's Flipside Festival 2012, True Hearts CommChest 2011 on Mediacorp Channel 8 as well as on Oktolive!