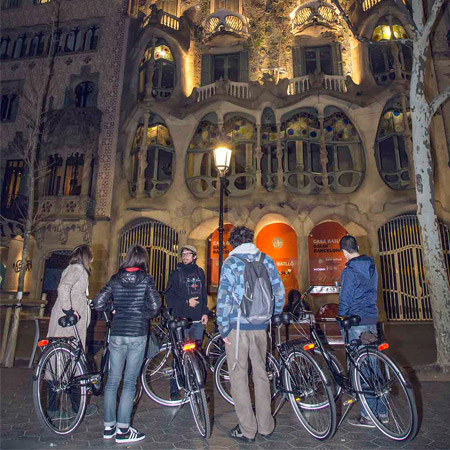 City Bike Tour
City Bike Tour offers the ideal solution for your team incentive trip, delivering original cycle tours for your group to explore famous landmarks
Experience the 'real Barcelona' - our original cycle tour will take you off the beaten track to uncover authentic haunts
Designed as the perfect team building activity for your corporate entertainment in Spain
A city excursion that is both fun & educational, healthy & environmentally friendly, perfect for any level of fitness
Our unique bike tour enables you to discover the city on your bike with a guided historical tour, with the option of hiring an e-bike available
Treat your corporate group to a fun-filled team incentive trip with our city excursion, offering the perfect team building activity and ideal solution for your corporate entertainment in Spain. 
Embark on a city excursion of Barcelona, enriched with history and culture, from the saddle of your bike! Our unique tours will allow your clients to experience the 'real Barcelona', taking you off the beaten track to uncover authentic haunts and hidden places. Designed as the perfect team building activity for your company event, our City Bike Tour is both fun and educational, healthy and environmentally friendly, perfect for any level of fitness. 
Our original tour enables you to discover the city of Barcelona on your bike with a guided historical tour. The perfect way to become truly orientated and feel immediately at home in the winding streets of the historic centre and wide boulevards of the beach promenade. 
We present a fun and educational way to get to know the city and maximise your time in Barcelona. Additionally we offer the opportunity to compliment your City Bike Tour by joining our 'Gothic Walking Tour' for an in depth view of the the most historic city sights - allowing you to view all of the places that bikes can't go!
All tours are taken by a professional guide with extensive local knowledge, offering a real insight into the culture and heritage of the city. The option of hiring an electric bike (e bike) for those who would prefer this method of touring the streets is also available. 
Our exclusive City Bike Tour provides a fantastic option for team building activities, corporate group events, incentive trips or private parties, ideal for your corporate entertainment, allowing everyone in your party the chance to exercise and take in the sights, whilst learning about the culture and history of an intriguing city. 
We promote our versatile bike tours as the perfect fun group experience for your team incentive trip. Custom-designed to deliver your group the opportunity to take part in a unique team building activity. An original company excursion offering a sight seeing tour combined with a physical workout, bringing energy to your team incentive trip, for an unforgettable experience!
Practical tips
Duration - 3.5 hours 
Comfortable clothing & footwear recommended suitable for cycling
Professional tour guide with every tour
Choice between a city bike or electric bike
Helmets provided
Opportunity to add our Gothic Walking Tour to your city excursion
Contact us at Scarlett today to talk about booking our City Bike Tour for your corporate team day or personalised event.