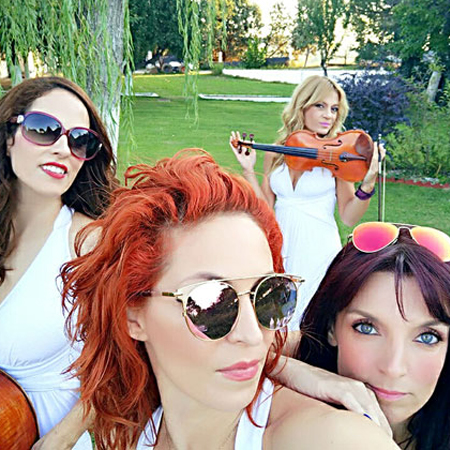 Classical Female String Quartet
Explosive string quartet entertain audiences with their classical music that branches into pop, rock, Latin, Middle Eastern and Greek genres
Our female string quartet perform a stunning act that is not only classical but has contemporary elements running through the entire performance
Four exceptionally talented musicians who have trained for many years to perfect the sounds created from their string instruments
Previous clients include; the Greek President, Mercedes Benz, Brussels European Parliament, BMW, Jaguar and many more
Based in Greece and available for worldwide bookings
Classical Female String Quartet PHOTOS
Our fantastic classical female string quartet has brought the intricate sound of string instruments and classical music into the 21st Century with breath taking performances creating a truly astounding classical act that has strong elements of contemporary music running alongside their wonderful sound.
Four extremely talented musicians have fused together upon finishing their professional studies in music and have perfected their string instruments sound to create beautiful event music that is soothing and entertaining to listen to. 
Our female string quartet not only play gorgeous classical music but can also play electric string instruments to popular styles of pop, rock, Latin, Middle Eastern and Greek music genres. 
Originating in Thessaloniki Greece, our string quartet have gained increasing popularity over the years due to their amazing ability to fuse classical music with electronic sounds as well as offering an extremely charismatic and charming stage presence that appeals to audiences of all ages and nationalities. 
A classical act that has performed multiple times for the Greek President have also appeared in prime time TV shows in Greece and Cyprus as well as being specially chosen to collaborate with 'Scorpions' in their epic concert in Athens. In addition to their impressive audience members and collaborations our classical string quartet has an extensive previous client roster that includes renowned brands such as Mercedes Benz, BMW, Estee Lauder, Abu Dhabi Airlines, Etihad Airways and many more impressive clients.
To book our magnificent quartet or for more information, contact our Entertainment Specialists today or to see our string quartet perform with electic string instruments check out our Electric String Quartet page.
BMW
Brussels  European Parliament
Cineplexx
Cyprus CYTA
Estee Lauder
Fashion Show Pronovias
Istanbul Ciragan Sarayi
KPMG
London World Fuel Services
Malta Fischer Scientific
Paris Thalasso No1
Abu Dhabi Airlines - Athens
Brazil Sao Paulo Mercedes Benz
Canary Islands Voyages avec Thalasso: Forum Canaries
City Link Athens
Cyprus Moet Chandon Champagne
Etihad Airways – Aegean
Istanbul Allied Telesis
Jaguar
London Mr Fogg's
Make A Wish
Nissan
Raymond Weil
Audi
" Girls you are fantastic artists and beautiful personalities! Every single person commented on how incredible your band was "

Chr. Kapodistrias  and Sons Ltd, Nicosia Cyprus
" Truly a class act! You really made our wedding the most amazing night of our lives "

Alexis and Gareth - Wedding Client
" Mercedes -Benz appreciates your partnership in S-Class launch event making it even more exclusive. Your presence was a great success and we were glad to have you all in our party "

Mercedes-Benz, Sao Paolo, Brazil