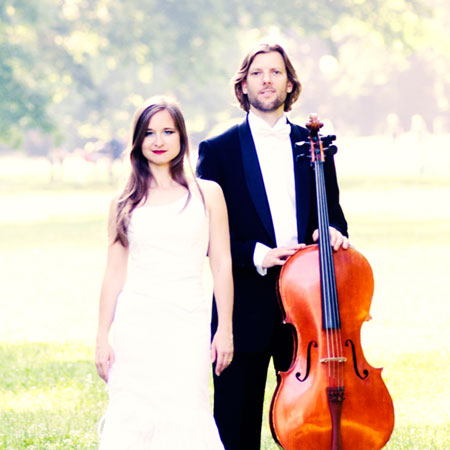 Classical Piano and Cello
Classic musicians playing classic and modern music for all audiences
Wide repertoire includes classic melodies, popular soundtracks and modern pop songs
Carnival Cruise Lines (USA, Miami) and Bluesun Hotels (Croatia) among happy clients
Ideal for classic weddings, gala dinners and cruise ships
Available for performances in Slovakia and overseas
Whoever said classic music is boring has never seen this Classical Piano and Cello duo performed before. They bring together the beautiful essence of classic music and the freshness of todays chart-topping songs in one performance. With the goal of making all audiences enjoy classical sounds in mind, our classical music duo can tailor their performance to suit specific events requirements. 
Whether you're looking for some Beethoven and Mozart melodies for your dinner parties or more modern sounds to make your corporate event more pleasant, this is the perfect show for you. Our Classical Piano and Cello musicians can play famous classic tunes, popular soundtracks and modern jazz and pop songs. You can check their wide repertoire on the tab above and choose among some of the most popular songs in history. If you'd like any special song to be played at your event, our classic musicians can make this come true. They can perform any song on request with no additional charge! 
Perfect for classic weddings, gala dinners and luxury cruise ships, this Classical Piano and Cello duo's happy clients include Carnival Cruise Lines, for whom they have performed in Miami (USA), and Bluesun Hotels (Croatia).
Their shows usually vary from 60 minutes up to three hours. In this time period, guests could be taken on a journey trough music history while enjoying an acoustic performance. Whether they play Beethoven's classics, "Let it Be" by the Beatles or "Uptown Funk" by Bruno Mars, their chemistry is noticeable and captivating.
Clients can choose from five different 60-minute recitals. You can check them by clicking the tab above. However, performances can be customised to suit your taste! 
If classic music with a modern twist seems something suitable for your type of event, enquire about this Classic Piano and Cello duo today. Scarlett Entertainment specialists will be more than happy to provide further details on this act. 
Barok period
Classic period
Romantic period
Wienna waltz
Swing jazz and pop songs
A. Harburg: Somewhere over the rainbow
A.C. Jobim: Ipanema girl
A.L. Weber: Memory
A.L. Weber: Phantome of the Opera
A.L.Weber: Don´t cry for me Argentina
A.L.Weber: Jesus Christ superstar / I don´t know
Beatles: Let it be
Beatles: Michael
Beatles: Yesterday
Besame mucho: arr: Gustavo Caruci
Boča Zemplinský: Skôr než odídeš
Burnett: Melancholy baby
E. di  Capua:  O sole Mio
Elington: Pitter Panther Patter
G. Gerschwin: Somertime
G. Gerschwin: The man I love
H. Mancini: Moon River
H. Mancini: The pink panther
I. Berlin: White Christmas
J. Lenon: Hey Jude
L. Bernstein/West side story:  Somewhere
L. Bernstein/West side story: Maria
L. Bernstein/West side story: Tonight
L. Chu Berry: Maelstrom
L. Prima: Sing sing sing
Tizol Elington: Caravan
Válka Stelipský: Jaj Zuzka Zuzička
Five different recital programs (60 minutes each):
Ch. Gounod: Ave Maria
F. Kreisler: Liebesfreud
F. Kreisler: Liebesleid
F. Mendelson: Wedding´s  march
F. Schubert: Ave Maria
J. Brahms: Hungarian dance No. 5
J. Haydn: Surprise Symphony
J.F. Wade: Adeste fidels
J.S Bach: Siciliano
J.S. Bach:  Air
Johann Strauss: Blue Danube op. 314
L. van Beethoven: Ode to Joy
N.Rimskij Korsakov: Bumblebee
Pachelbel: Canon
T. Albinoni: Adagio
W.A. Mozart: Little night music
Z. Fibich: Poem
More…
A. Piazzolla:  Liebertango