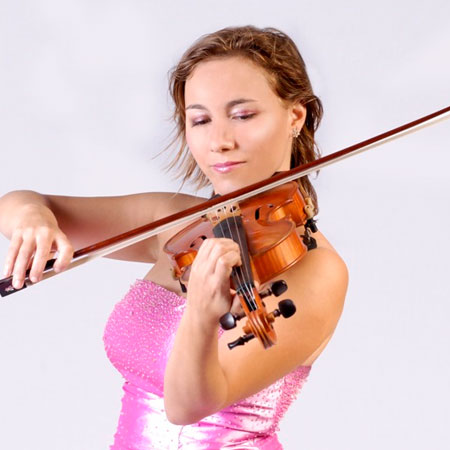 Classical Violinist
Highly trained classical violinist providing music for Weddings & events
Popular for wedding ceremony music and wedding drinks receptions
Award winning violinist has performed on TV and radio in Spain
Performed in France, Italy, Germany and Turkey.
Based in Malaga, Spain and available to perform across Spain
Classical Violinist PHOTOS
An experienced and highly trained classical violin player, offering the perfect musical accompaniment to any wedding ceremony, garden party, drinks reception or cocktail party.
A graduate of the Malaga High School of Music, this award winning violinist has performed with orchestras that include the Chamber Orchestra of "Ateneo de Musica y Danza", the Real Philharmonic Orchestra of Galicia and the Philharmonic Orchestra of Malaga.  This professional violinist is also a founding member of the Young Andalusia Orchestra which has performed on Spanish radio and television.
This act is also a founding member of the 'Arcos de Buenos Aires Tango Show Orchestra' which has completed tours of France, Italy, Germany, Turkey and the Baltics.
W.H Ernest
Bazzinni
P. De Sarasate
Locatelli
J. Turina
E Hallfter
M. De Falla
Dinicu – Heifetz
C. Saints Saens
C. Franck
N. Paganini
Brahms
Music by the following composers is included in this musicians repertoire...
Beethoven
M Ravel
H Wieniawsky
G Tartini
S Prokofieff
H Vieuxtemps
Novaceck
E Chausson
M Bruch
Moskowski
Kreisler
Tchaikovsky
Bach