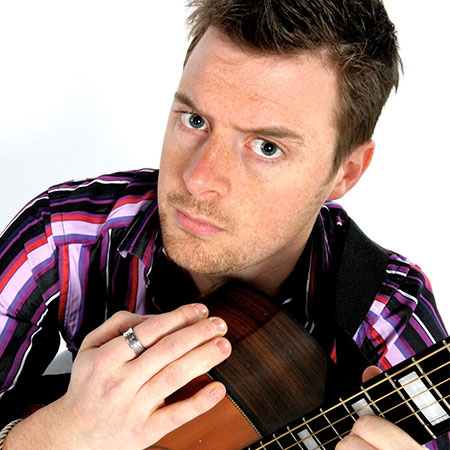 Comedian & Event Presenter
Experienced stand up comedian and event host and a regular contributor to the Eamon Holmes show on BBC Radio Five Live
Has performed alongside huge comedy names such as Russell Howard, Kevin Day and Jo Brand
Well-known for his participation in a number of sporting shows, his YouTube site has had over 20 million hits
Connects with audiences and wins them over with his original humour
Our comedian and event presenter is available event in the UK and all over the world
An experienced event host and comedian, this British event MC made a name for himself in the sporting when he featured as a regular contributor to the Eamonn Holmes show on BBC Radio Five Live, penning and performing topical comedy songs about football news stories of the week. He also featured on a number of sporting shows including 'Sky Poker's The Club', 'Setanta Sports News' and Channel 4's 'Fanbanta'. More recently, this stand up comedian shared his unique insights on some of 'The 100 Greatest World Cup Moments' for Channel 4.
Our event host and comedian is currently presenting 'The Best YouTube Football Clip Show Ever' and was a regular on 'Sports Tonight Live' and ESPN's Sunday magazine show Talk of the Terrace, bringing his unique sense of humour and sporting knowledge to the football world as well as presenting regular features for Chelsea TV.  He also fronted Footie Fever on 'Angela and Friends' for Sky One - the antidote to the World Cup for people who don't watch football.
Also a regular stand-up comedian on Noel Edmond's 'Sky One' show, Noels HQ.  Armed with a guitar, he performed a live comedy song every Saturday night summing up the state of bureaucracy in Britain today.
He originally began his career as a stand up comedian. He has performed alongside big names such as Russell Howard, Kevin Day, Jo Brand, Sean Locke and Marcus Brigstocke, as well as performing regularly at the Edinburgh Festival.  His own YouTube site has had over 20 million hits and counting.
Quick-witted and eloquent, this British event MC is a talented public speaker. An in-demand awards and event host, he knows how to quickly connect with audiences and win them over with his fluid speech and tasteful jokes.
Scarlett Entertainment offers a wide range of event hosts and comedians for events in the UK and all over the world.
If you're interested in booking this experienced Comedian & Event Presenter, don't hesitate to get in touch with us today and make an enquiry. Our dedicated team of Entertainment Specialists will be more than happy to provide further details on this event host and comedian and assist you in the booking process.