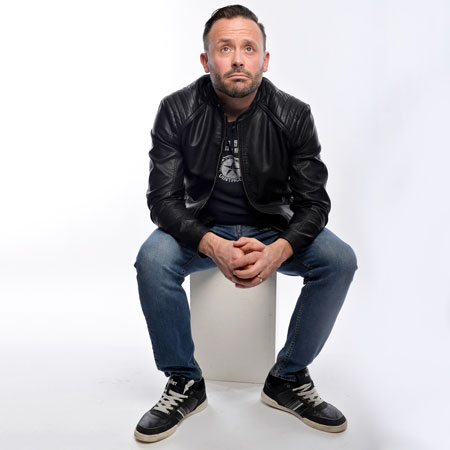 Comedian Geoff Norcott
Comedian and Awards Host
Satirical Journalist
Numerous TV appearances on BBC2, BBC3, Sky News etc.
Awarded Operational Services Medal for frontline tours in Afghanistan
Based in the UK
Comedian Geoff Norcott is a talented comedian and a presenter, also a great award host. His career has been thriving for past couple of years, and he has recently appeared on Question Time, 'The Mash Report' and recorded his first 'Live at the Apollo'. He has over 15 years of experience as a comedian. Geoff Norcott is one of the rare comedians who leans to the right and being a social commentator in shows with political content.
 
Comedian Geoff Norcott is a writer on top comedy shows, including: 'Have I got news for you', 'Frankie Boyle's new world order', 'Fake News', '8 out of 10 cats', 'Live at the Apollo', 'C4's Alternative Election', The Sarah Millican Television Programme', 'The British Comedy Awards' and many more. 
The British comedian has performed on TV including Edinburg Festival Nights and Daily Politics om BBC, All out Politics on Sky News, Comedy Central's The Comedy Store, Free Speech on BBC3, Friday Night Live and many more. The British comedian's debut tour was a sold out national tour at the 2017 Edinburg Fringe and in early 2018 he started his tour called 'Traditionalism'.
 
Comedian Geoff Norcott is an event host with extensive experience of corporate events for top companies such as Google, Toyota, Carlsberg and Copart. The event host's accessible material and ability to tailor his act for the event makes him fit for any corporate event, from Google's Head Office to Afghanistan, where he earned an Operational Services Medal for entertaining the troops on the frontline.
Speak to our team at Scarlett Entertainment if you would like to book the British comedian to make your guests laugh, or as a humorous event host, for your event. 
" Geoff went into a large room and had the whole of it laughing within no time. He picked out the right personalities and gave our event the talking point we were looking for. "

Toyota
" My guys and girls absolutely loved him. A much needed morale boost "

Camp Bastion, Afghanistan – Garrison Sergeant Major, Ian Glade
" A great success for Carlsberg…Geoff Norcott was excellent…it cannot be easy performing to wide group of ages put he pulled it off and the feedback from the customers was very positive. "

Carlsberg
" Thank you to Geoff Norcott who had Google UK laughing hard at the Red Nose Day "TGIF" event" "

Google UK