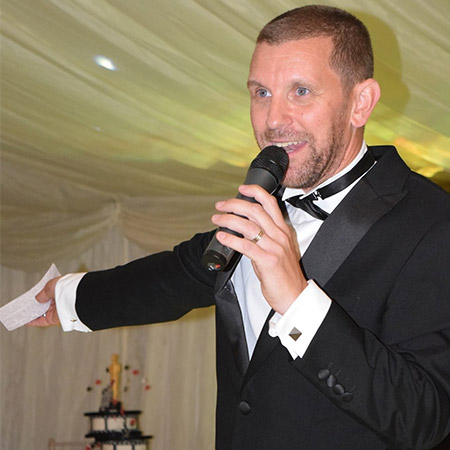 Comedic Host Paul
A very experienced, animated and quick-witted comedic host and compere
Nominated for FreeSat's 'Best Daytime Output' award
Paul possesses a very witty style that suits all ages
He provides the vital 'glue' to make your big event stick
Based in London and available to perform at events worldwide
With over 20 years experience in the entertainment industry, our comedy host Paul is sure to make your event one to remember. Experienced, animated and quick-witted, Paul has a real edge about him. Paul's experience spans virtually every event you might need a compere for: sports meets, festivals, charity gala events, weddings, award shows, branded corporate events, dog shows, soapbox derbies, family fun days, and many more! Having spent seven years presenting on live television as well as in front of large audiences up and down the country, Paul assures your guests are in the best possible hands.
Paul has the talent to make your event stick and leave a lasting impression with your guests. Comedic Host Paul has previously been the brilliantly quick-witted presenter on Price-Drop and Bid TV and has a client list that includes Ford, Volkswaged, Men's Health Magazine, Allianz, Virgin Holidays and more. His popularity was such that Paul was nominated for a FreeSat award for 'Best Daytime Output'. With over 6000 hours of 'live' and unscripted presenting under his belt, he is guaranteed to make your event hosting and delivery a success. 
Additional services include:
Youth aspirational workshops
Gameshow host
On the spot celebrity interviews
Paul is fun, dynamic and the perfect addition to your next event.
Enquire today with one of our event specialists to find out more about hiring professional event hosts today!