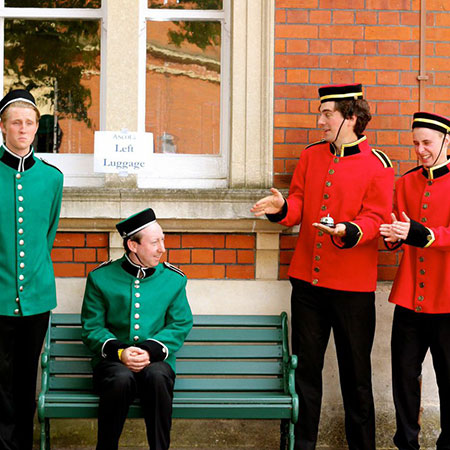 Comedy Bell Boys
Wonderful meet and greet characters are sure to amuse at your event
Bell boy walkabout act in smart, colourful costumes
Performers are skilled in improv and physical comedy
Ideal for themed events, corporate functions, parties, festivals & more
Based in London and available to perform at events worldwide
These eager to please comedy characters are certain to be a hit at your event as they mix and mingle with guests, attempting to help them out in small ways but instead blundering and fumbling and turning every situation into a comical one.
Dressed in smart-looking red and green suits, complete with bell boy caps and even a bell which onlookers can ring for service, these walkabout performers will delight the crowds at your event. Struggling to pick up light objects, escorting people the wrong way, and never quite bowing in sequence, our comedy bell boys add an instant dose of hilarity to any occasion with their verbal wit and physical humour.
Ready to help and certain to amuse, hire our Comedy Bell Boys for your event to guarantee an unforgettable occasion.