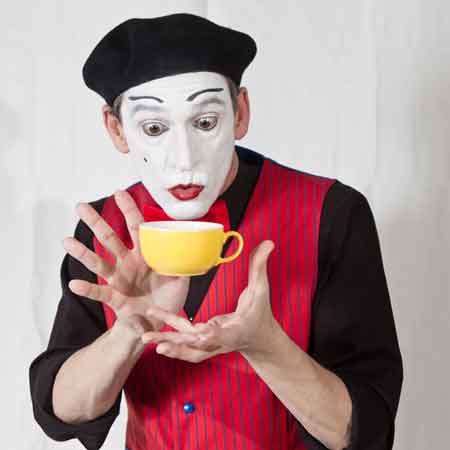 Comedy Character Berlin
Hilarious comedy act will have audiences rolling around with laughter
Interesting & exciting interactive way to liven up any event
One of Germany's most versatile artists with a range of skills
Previous clients include: Mercedes-Benz, Microsoft, Nokia & Porsche
Based in Berlin & available to perform at events worldwide
Comedy Character Berlin PHOTOS
One of Germany's most versatile artists, he has an impressive repertoire of characters that would suit a huge range of events.
Coming from a traditional background in modern and contemporary mime, this artist has continuously expanded his performative skills, incorporating mime, comedy, walkabout, show acts, themed entertainment and compering. He also has an extensive range of characters including: comical waiter, comical photographer, crazy janitor, crazy professor and more.
Whether you're planning a product launch, corporate dinner, private party of festival, he can provide sidesplitting entertainment that will liven up your event and have guests in stitches! Available as a mime, walkabout character, living statue and more he presents a fun and exciting way to entertain guests at private events, and incorporate messages and products at corporate events.
Extremely versatile, his performances have WOWed audiences across Germany and the world at private and public events for global companies such as: Merced-Benz, Nokia, BMW, Coca Cola and more.
Microsoft
BMW
SAP
RWE
VW
Renault
BASF
German railway
Coca Cola
Dresdner Bank
Opel
HypoVereinsbank
Toyota
Hewlett Packard
German Telekom
Siemens
Nokia
Audi
Alliance
Honda
Porsche
German Bank
Warner Brothers
Pfizer
Ikea
Sony
Nissan
German Post
Peugeot
Mercedes - Benz