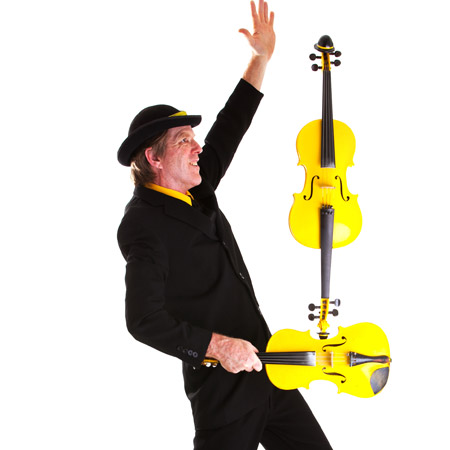 Comedy Entertainer
Juggling & unicycling combined with comedy & audience interaction
Amazing stunts, foolish high-jinx and non-stop laughs
Award winning comedy entertainer with over 30 years performance experience
Appearances on TV, film, radio and stages around the globe
Based in Japan & available to perform at events worldwide
Comedy Entertainer PHOTOS
An amazing comedy entertainer this act really does love every second of what he does! Having performed for hundreds of thousands of people all over the world in various locations including; America, Europe and Asia, there aren't many artists in the world who can say they have brought smiles to that number of people! 
Clad in black, yellow and white, this comedy performer is instantly at home on the stage. Starting of his routine he will juggle three clubs and as the clubs fly so do the jokes, and our male entertainer certainly has a few of those up his sleeve! Our male comedy entertainer then pulls out, as if form nowhere, some yellow violins, of course they are yellow, that's his favourite colour! By the end of the show you will get to know this comedy act is a born entertainer. Audiences will be delighted with his variety comedy show which includes, violin juggling, violinist tricks and unicycling!
This male entertainer grew up watching the likes of Charlie Chaplin and Buster Keaton films and has fine-tuned his comedy style to please audiences of all ages and size. Now on a career path which has allowed him to appear on television and in films whilst performing all over the world, our comedy performer will put on a show like no other!
Returning to traditional methods of comedy he encourages people to get involved and provides fun interactive entertainment. Creating an atmosphere of fun for all, his family-oriented comedy show is not to be missed.
Just some of the entertainment he could bring to your next event:
Juggling
Not just any juggling: Three and four ball juggling, fire juggling, club swinging, juggling on a unicycle, and more.
Trick Country Fiddle
You've never seen such inventive fiddle playing; watch as The Comedy Entertainer plays it behind his back, with two bows, or even with someone from the audience.
Unicycling
On his custom made, extra-high unicycle the performance reaches a whole new level – literally! Whether playing the fiddle, juggling or escaping from a straight-jacket, it's double the fun on the unicycle.
Balance
The Comedy Entertainer, through natural talent and many, many years of practice, can make the seemingly impossible possible, and balance things in a way that'll leave you scratching your head in amazement.
And Much More!
Stilt walking, unique balloon shapes, rope spinning, escape artistry, music, puppetry... something for everyone!
" He has a great imagination. And look at all his skills: cartoonist, unicyclist, fiddler, juggler, puppeteer, writer and more. They are all mixed into a tasty jambalaya! "

Alex the Jester
" Over a period of four years in Japan, on nearly a monthly basis, I was privileged in the opportunity to work with and witness him delight crowds in an array of venues. His brand of humour transcends culture, language and age. And speaks to that part in all of us that just wants life to be fun again. "

Rodney Millichamp, Indigo Shire Tourism Office, Australia
" He is one of the most inventive, professional and slick entertainers we have had the pleasure to witness in a long time. He is both a joy to work with on a sight to behold. I would recommend him to anyone who wants to give their audience an incredible gift. "

Michael Saab, Modern Gypsies Productions
" He is a consumate professional. As a fellow artist, I marveled at his boundless energy and dedication to his preparations and performances: always ready, always planning how to best reach each audience. And his fiddling is amazing! "

Lauren Muney, performing artist
" I've had the pleasure of sharing a stage and have enjoyed watching him bring smiles to the faces of thousands of people. He is the friendliest entertainer on Earth. "

Jim ' The Jim Show'
" He is an Artistic performer in the highest degree. We learned that he cannot be replaced. He is one of a kind. "

Bobby Box, Center for Puppetry Arts
" A versatile and professional entertainer able to adapt to most any environment and deliver a consistent and funny show around the globe. He is a character that people love to watch and participate with him in his zany antics. "

Greg Frisbee, Greg Frisbee Productions
" A unique and exceptional artist and performer. His devotion to his craft is enormous, and he is incredibly innovative. As a fellow performer, I've long admired his skills and creativity. As an entertainment producer, I have used him on many occasions, always with great results. When you hire him, you can always count on a crowd pleasing, family friendly performance, as well as the enjoyable experience of working with a true professional. "

Dan Thurmon, Professional Speaker, President of Motivation Works, Inc.
" Working with him has been the most rewarding experience in my professional life. He is full of enthusiasm and joy. And his act is exquisitly orchestrated, with great improvisation and always wonderful music. A must watch show! "

YAyoggler, Guitarist, Performer, and Juggler
" Truly amazing! You're a big hit interacting with audiences of all ages and race, captivating their attention with your vibrant personality and filling their souls with joy and laughter. You're a team player in every sense! Entertainers like you, is what makes my work fun and our festivals a huge success. Keep 'em laughing! "

Alan T. Belanger,PEARLESQUE, INC.