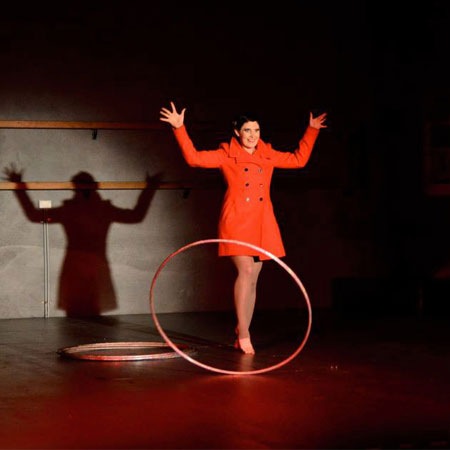 Comedy Hula Hoop Show Australia
Incredible hula hooper showcases her comedy chops and fast paced hooping
Stunning hula hoop act featuring acrobatics and balance that is sure to turn heads
Hilarious comedy hula hoop show will captivate guests both young and old
Perfect comedy act for private parties, corporate functions, theatre performances, etc
Book circus hula hoop act for events across Australia and worldwide
Comedy Hula Hoop Show Australia PHOTOS
Book our fantastic and hilarious comedy hula hoop show and treat your guests to a talented hula hooper that knows how to combine the fine line between a hula hoop act and comedy act, and make it something marvellous and spectacular. Our sensational hula hoop performer will showcase her circus hula hoop skills within a range of funny antics that involve our skilled hula hooper not knowing how to hula hoop before she steals the show with her fast paced movements, and body bending routines that are bound to keep your guests breathless and on their feet.
Our funny comedy act and hula hoop act are set to music from the 1920s to add a little more flair to the hilarious antics performed by our stunning hula hooper. Sure to have your audience members in a fit of laughter, featuring a wonderful costumed performer dressed like a show girl or flapper who awkwardly performs her highly skilled and fast paced hula hoop act, while also attempting to balance on 9 inch heels. A marvellous comedy hula hoop show that is unlike anything you have seen before, that will surely help provide your event with a laughter filled wow factor experience that will have your guests talking for months.
A suitable circus hula hoop act for larger venues or small venues, our fantastic hula hooper can also tailor her performance to fit most event themes or styles, showing off her unique and versatile skills and magnificent performance abilities. A dazzling hula hoop act that offers a variety of different hoops and comedy bits, our fantastic comedy act will create a stunning atmospheric quality that will keep all eyes on our performers at all times. The perfect comedy hula hoop show for private parties, theatre performances, gala dinners, corporate events, festivals, drink receptions, and much more. 
If you are interested in booking our daring and hilarious comedy hula hoop show for your upcoming special event, contact any of our fantastic Scarlett Entertainment event specialists who are standing by to assist you.