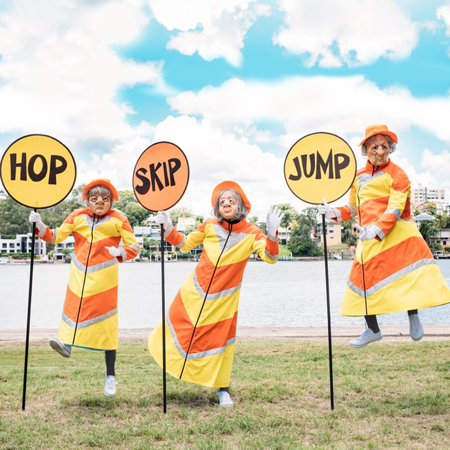 Comedy Lollipop Ladies
Amusing elderly comedy characters themed on Lollipop ladies
Perfect roaming act for family friendly occasion and corporate events
Very eye-catching act very clearly stand out in any environment
cheeky and playful Comedy Lollipop Ladies will not be forgotten very easily
Based in Brisbane and available throughout Australia and New Zealand
Comedy Lollipop Ladies PHOTOS
The Comedy Lollipop Ladies might not have all your traffic under control or safely see pedestrians across the road, but they will fill your event with joy and laughter. The elderly comedy characters bring an endearing charm to events throughout Australia and New Zealand and you can guarantee your guests will be anting to have their pictures taken with this surreal roaming act. 
Nobody is likely to miss the Comedy Lollipop Ladies with their high-visibility coats, customised stops signs and fascinating masks. The old ladies are highly amusing and provide exceptional interactive entertainment for a wide range of events. The roaming act is very cheeky and playful which gives an experience your guests will not forget. They are very visual in appearance and very clearly stand out in any environment. 
Thee comedy characters provide the best kind of interactive entertainment for family friendly occasions, summer fétes, conventions and trade shows. The Comedy Lollipop Ladies would make a great addition to events with automobile or road safety themes. The roaming act will tailor its interactive performance according to the event or audience type. 
Top Tip:
The masked walkabout act is also available in other themes: Comedy Musicians, English Policemen, Comedy Tourists, and Vintage Tailors. 
If you would like to book the fantastic and amusing Comedy Lollipop Ladies for your event, please contact our experts at Scarlett Entertainment who are always more than happy to discuss these comedy characters with you.