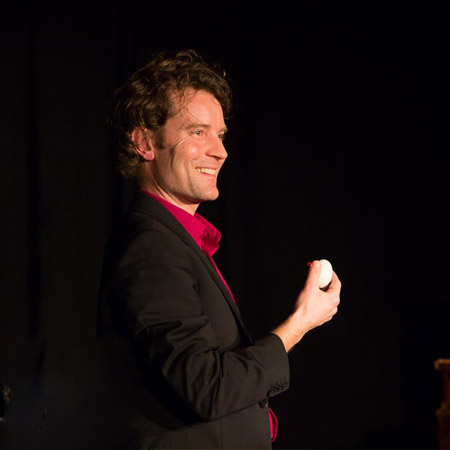 Comedy Stage Magician Germany
Fantastic stage magician will amaze and entertain with his inventive and hilarious show
Comedy magic show brings trademark English wit to audiences all over the world
Jaw dropping tricks and illusions in a magic stage show that can be performed in five languages
Perfect after dinner magic show for corporate events and parties- Microsoft, HP and Samsung are just a few past clients
Incredible Munich based magician available for performances worldwide
Book our fantastic Munich based stage magician for an amazing and entertaining show full of jaw dropping magic and side splitting laughter. This brilliant comedy magic show delivers an exciting and unique show full of fantastic tricks and illusions delivered in a brilliantly witty style that will have audiences laughing out loud at every madcap trick and joke. Our magician delivers a charismatic and one of a kind show full of never before seen magic that will impress even the most sceptical of audiences.
Our experienced and talented performer makes the perfect after dinner magic show for all kinds of events and this world-class performer is able to deliver a fun and interactive show in English, Spanish, German, French of Japanese, making him perfect for international audiences and events. Book this magic stage show for a weird and wonderful evening of entertainment where anything is possible.
Our ingenious stage magician delivers a captivating performance in this fast and unique comedy magic show. Our German born magician was raised in England and has toured all over the world, bringing his madcap "English wit" to audiences worldwide. This brilliant after dinner magic show is just the thing for entertaining audiences at corporate events, cabaret shows, birthday parties and events of all kinds. With a highly impressive list of past clients including McDonalds, Microsoft, Samsung and Hewlett Packard you can rest assured this magic stage show is top class entertainment.
Our magic show features a fantastic range of tricks including mysteriously connected bicycle pumps, moving drawings, levitating coins and magic bottles of tomato ketchup. This versatile magician also offers a brilliant roaming magic performance to entertain guests throughout the evening. 
Scarlett Entertainment are the leading experts on providing top class magic shows for events worldwide. 
Contact our team to arrange booking one of our brilliant acts for your event.
Allianz Global Investments
BMJ Indonesia
Continentale
European Patent Office
Goethe Institut
Infineon
JCB (UK)
MagirusMax Aumüller Bäckerei
Münchner Rück
Open Mind
Raiffeisen Waren
Russel Reynolds Associates
Solid Angle
ThermoKing
Bavarian International School
CADFEM
DHL
Freisinger Bank
Hubert Burda Media
Japan Club München
Lamborghini
McDonald's Germany
Nokia
Playmobil Funpark
Roche
Seele
SupplyOn AG
Aurigon Life Science
BMW
Credit Suisse
European Southern Observatory (ESO)
Greifzu Management
INFRAPLAN
KEA Bayern
Max Planck Institute
Neff
Philip Morris
REAL
Sandvik
Sparkassenverband
Acritec
BetonBauteile Bayern
CEBIT Hanover
École francais de Munich
German Ski Federation
imtech
JBT Corp.
Mangostin Asia
Münchner Bank
océ Printing Systems
Quatsch Comedy Club
Roland Berger
SIXT
Telis Finanz
Bavaria Filmtour
Burger King
Deutsche Telekom
FIBA FRANZ München
Hewlett Packard (UK)
Ipsum (UK)
Kreissparkasse München-Starnberg
McAfee
NDR (Hamburg)
PIMCO
Rimini Street
Schmitz Cargobull
Stadtwerke München
Amgen
Booz
Cornelsen
European School Munich
GOLDBECK
Informa Life Sciences
Karlsberg Brauerei
Max Bahr
Munich Airport
Penny Markt
Ratschiller's
Samsung
Sparda-Bank
Thomas Cook
Bavarian Nordic Berlin Hyp
Cartier (Japan) ce Global
DIS AG
Generali
Hugendubel
Japan Travel Bureau (JTB)
Lear Corporation
Microsoft
NOVARTIS
ProSieben TV
Rohde & Schwarz
Siemens
Tata Consultancy Services
AVNET Logistics
Bosch Security Systems
Deutsche Post
Fermentis (France)
Haulotte
Intercard
KVB
MBW
NBC Global Networks
Phormes
Relexa Hotels
SBB Cargo
Stadtwerke Erding
Allianz SE
" Excellent entertainment! Rene switched effortlessly between English and German languages providing a bi-lingual commentary appropriate for our mixed English and German audience. A very impressive and highly recommendable performance. Thanks again "

Maura (O'Leary's Irish Shop) Munich
" There were a large number of really positive comments from the exhibitors and attendees the next day, even the more sceptical of my colleagues were very impressed. I hope you enjoyed it and we will definitely contact you for future events in Germany. "

Pru Bamberger, International Events Manager, FC Business Intelligence Ltd, London
" I would like to thank you again for your dedication, enthusiasm and sensibility during the IAA Commercial Vehicle 2008 Exhibition. You managed to captivate and astound all our international guests, employees and even our top-level management with your close-up magic. Not just our customers, but also our exhibition staff were immensely entertained by your fine British sense of humour, unbelievable illusions and admired your ability to respond to different types of audience member throughout the eight- day period of the fair. "

A. Zankl, Thermo King, Regional Director Northern Europe
" On behalf of the whole staff here at Fermentis a warm thank you for your contribution to the success of our 10th anniversary event. Everyone was impressed and we received great feedback on your performance. "

Sophie Castelain - FERMENTIS Division of S.I. Lesaffre, France
" Thank you so much again for your truly "magical" performance, during which you managed to convince even the most sceptical audience members. We are looking forward to the next time! "

Gabriela Müller, Argoneo Real Estate GmbH
" in the name of our whole team, I would like to thank you again for performing at our recent event. We all had a great time and lots of fun watching you perform your magic. You really succeeded in leaving a lasting impression. I wish you all the best and much success for the future and hope to soon get another opportunity to "watch you very closely." "

Eva Adler, agents' sales manager, Continentale Insurers Association, Munich
" You did a great job today. We got fantastic feedback from our employees and will contact you again for our summer event. "

Richard Paulson, General Manager, AMGEN GmbH, Germany
" We booked him for a corporate event with international guest attending. He did both close-up magic and an after-dinner show. The magic and also the humour went down very well with our customers. I can only recommend him! "

Claudia Maier, OCEANIC Tauchsport Vertriebs-GmbH, Augsburg