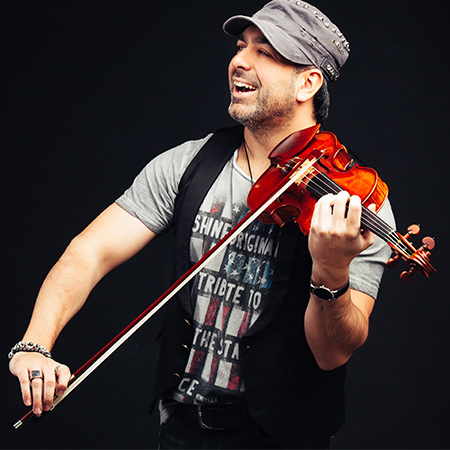 Contemporary Violin Player
Multilingual violin virtuoso who can play from classical to techno violin music
Set list includes classic music such as 'Ave Maria' and also modern tunes like 'Moves Like Jagger'
Our contemporary classical violinist can perform as a soloist or accompanied by live musicians
Ideal live music entertainment option for cruise ships, resorts, nightclubs, private parties, galas, etc.
This Contemporary Violin Player is based in Budapest and available for worldwide bookings
This Contemporary Violin Player offers both classical and techno violin music in a show that mixes these two different styles and others. This contemporary classical violinist is also a techno violin artist who ensures to provide a truly unique musical experience.
This creative musician was trained as a classical violin player, but he quickly started to explore different styles and possibilities and found a real passion in mixing genres and sounds. That way, he discovered techno violin music and other styles such as pop, rock or swing. By mixing such different rhythms and sounds, he creates original melodies that surprise and amaze listeners.  
His varied set list includes both classical songs and modern tunes. From 'Ave Maria' by Schubert to 'Moves Like Jagger' by Maroon 5 and songs by Pagani, our violinist's repertoire includes rich sounds from different genres. Our performer can adapt it to your event's specific needs and requirements.
Other live musicians such as guitarists, drummers and pianists usually join him on stage for his shows. Along with them, our contemporary classical violinist performs live concerts that all sorts of audiences can enjoy. Old generations will dance and sing along to songs like 'Johnny B Goode' and young listeners will be delighted when our violinist and his band play electrifying techno violin music.
A regular entertainer in cruise ships and resorts, this classical musician and techno violin artist's show is also suitable for different types of events such as nightclubs, galas, ceremonies, private parties, and many more. He can communicate with audiences in either English, Spanish, German, Italian orPortuguese. Our versatile contemporary classical violinist is happy to adapt his performances to different situations.
At Scarlett Entertainment pride ourselves on providing high-end Live Music Entertainment for events and occasions all over the world.
Enquire about this Contemporary Violin Player by contacting us today. Our in-house team of Entertainment Experts will be delighted to provide further information about this live music entertainment option and guide you through the booking process.
Bach Toccata and Fugue
House of the Rising Sun
Insomnia - Faithless
Jewish Medley (3 Songs)
Johnny B Goode
Kashmir
Libertango
Live and Let Die
Ave Maria
Moves Like Jagger
Radetzky: March
Russian Medley (3 Songs)
Sabre Dance
Skyfall
Smooth Criminal
Tico-tico
West Side Story Medley (3 Songs)
Moon River