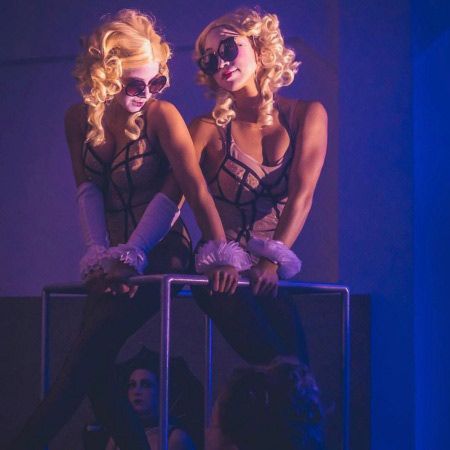 Contortion Cube Duo
This female contortion duo uses a unique cube apparatus, to showcase incredible acrobatics, flexibility and dance
Our acrobats have decades of experience and perfected their routines to provide top notch performances to clients like Ferrari and Adobe
Unusual Acro Cube act attracts guests' undivided attention and is ideal to book for corporate events, themed occasions or private parties
The circus act is fully customizable and performers are open to wearing branded costumes, adapting to themes or breaking the show into segments
Our acrobatic duo is based in California, USA and available for events worldwide
Contortion Cube Duo PHOTOS
Hire our phenomenal acrobatic duo and let your guests be fascinated by a one-of-a-kind cube acrobat show. It's a dazzling entertainment option for a wide variety of events and the high-quality performances are sure to leave lasting impressions.
Our female contortionists have been in the entertainment industry for a long period of time and always deliver an exceptional show full of elegant contortions and acrobatic flair. They are known for their visually stunning costumes and incredible ability of storytelling and slipping into different characters. The show will keep your guests engaged and entertained from start to finish, and they will leave your event with lasting memories.
Both performers are strong solo as well as duo acrobats and offer a highly versatile package of entertainment options. They can combine their routines to fill an exciting 15-minute show or deliver a short high-impact act. Needless to say, this circus duo will give you a captivating live performance you and your guests will have never seen before.
Top Tip: If you are interested in another acrobatic act for your event, this female contortion cube duo also performs aerial shows, which can be booked alongside this performance.