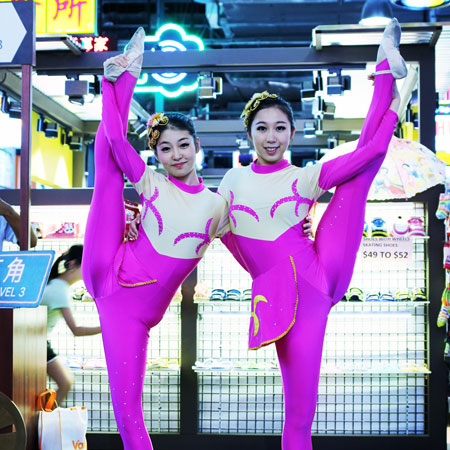 Contortion Show Singapore
Bring fantastic circus entertainment to your event with our professional performers
Skilled contortionists will amaze and captivate audiences with unique stage show
Incredible acrobatic spectacle with audience interaction for lasting memories
Ideal for festivals, themed occasions, gala dinners, ceremonies, corporate functions, etc.
Acrobats available to hire for events across Singapore
Make your event an unforgettable occasion with our incredible contortionists, a talented duo of professional performers who will leave a lasting impression on audiences with their breath-taking stage show. Providing circus entertainment at its finest, these brilliant acrobats will fascinate your guests as they mould their bodies into unbelievable shapes, putting on a one of a kind production that is not to be missed!
Tailoring each performance to create the ultimate impact, our circus artists offer something truly special for all occasions, and will supply you with an amazing stage show that is guaranteed to get people talking. Experienced and professional performers who always deliver exceptional entertainment, our contortionists will put on an exciting performance that exactly meets your requirements, promising you an extraordinary event.
Certain to captivate audiences from beginning to end, our contortion show features a team of gifted acrobats who will have your guests spellbound as they demonstrate their flexibility, creativity, and balance with a series of impressive poses and moves. Contorting their body into jaw-dropping positions, these amazing performance artists will provide you with an awesome visual spectacle, with the interactive segment of their performance sure to make it a wonderful experience for all.
Ideal for themed events, festivals, ceremonies, gala dinners, exhibitions, product launches and more, our contortionists are bound to prove popular with guests at your special occasion, and are available to book for events throughout Singapore.
Leading global specialists when it comes to all things entertainment, at Scarlett Entertainment we can supply you with fantastic contortion and acrobatic acts for private and corporate events around the world, with options available to suit all occasions, themes, and budgets. For more information on the circus entertainment choices we can offer, plus much more besides, contact our dedicated team of co-ordinators today.