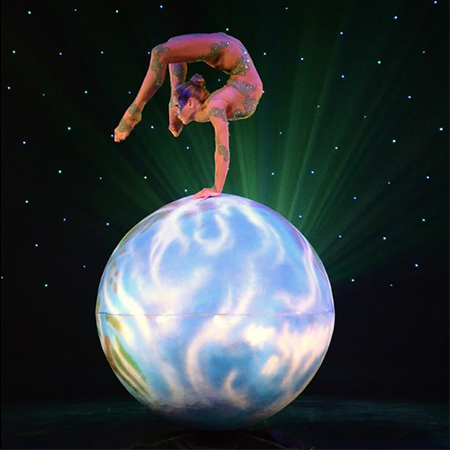 Contortionist Katrina
A creative circus performer who offers bespoke contortion performances for any type of event
Can perform ground routines or use equipment such as boxes, stands or a world globe that can serve as surfaces
Ideal to be part of theatre plays, circus shows, theme events or any type of theatre productions
Ciara and Cirque du Soleil have trusted her to perform at some of their shows
Book Contortionist Katrina for events in Switzerland and all around the world
Contortionist Katrina VIDEOS
Contortionist Katrina PHOTOS
A bespoke contortion performance that demonstrates that creativity knows no bounds, this fully customisable act is what you have been looking for to complement your theatre play or circus show. Our talented female contortionist is guaranteed to provide an act that completely adapts to your event. Whatever the occasion, she will come up with an original idea that will ensure your party, corporate function, concert or show stands out.
Our creative circus performer has a wealth of experience creating bespoke contortion performances for specific events. If you have a quick look at the videos above, you'll see for yourself the variety of shows she's been part of and the different choreographies and costumes she has chosen for each occasion.
Focusing on creating narratives through movement, our talented female contortionist loves exploring the limits of her body by performing impressive pieces of contortion and demonstrating great flexibility, strength and balance. This fantastic contortionist is able to perform in a number of different costumes in order to match your theme, so no matter what type of event you're hosting, she will offer you a bespoke solution.
By only using her extraordinary contortion skills, this phenomenal contortionist can deliver exceptional ground routines that will blow audiences away. She can also make use of equipment such as stands, tiny boxes she can fit her entire body into or even a world globe which serves as a surface to carry out her exercise.
Ideal for circus shows, theatre plays and theme events, our talented female contortionist is a limitless source of creativity, so she always makes sure to propose original ideas difficult to decline. Whatever the occasion, this creative circus performer will carry out a fully customisable act that will leave audiences speechless and that will be especially applauded by circus enthusiasts.
Renowned artists like Ciara have asked her to join them on stage for some of their shows. She's also been part of some Halloween productions where she has played the role of the girl from The Exorcist and some theatre pieces where she has combine her amazing flexibility and contortion skills with het boundless imagination.
Scarlett Entertainment offers you a wide variety of contortion acts for events worldwide.
Contact any of our fantastic Scarlett Entertainment team members today and make your enquiry about this extraordinary contortionist. They will be more than happy to answer all your questions and guide you through our booking process.
Auto Expo Zurich ( Zurich Switzerland)
Ballo del Doge ( Venice Italy)
Edeka Messe Munchen ( Germany)
One & Only Rheti Rhah ( Maldives) New Years eve event
VW group event Auto Expo Frankfurt
Womanity Foundation Gala ( Geneve Switzerland)
ABC group events (Lebanon)
BWT Gala Event ( Austria )
Catrice Cosmetics L.O.V. Launch ( Frankfurt Germany)
Ciara
Ferragosto di Venezia Hotel Excelsior
Pokerstars One Drop Foundation Gala for Guy Laliberte ( Monaco)
Venetian Carnival Teatro la Fenice
Audi auto  expo  ( Germany)