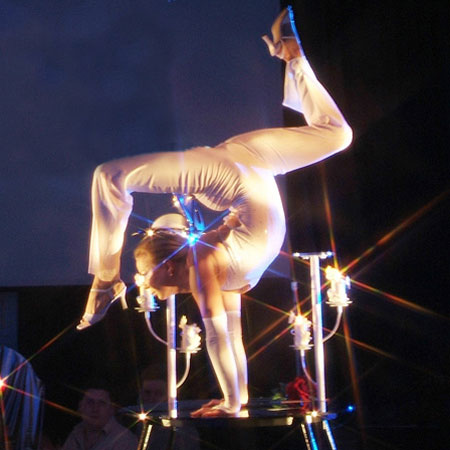 Contortionist: Nicole
Leading contortionist, Nicole has toured China, Thailand & across Europe
Can perform with a pianist: 'Contortion on a glass piano'
Also available with a fire performer & pyrotechnics
Unique entertainment, ideal for drawing attention and wowing audiences
Based in Berlin, Germany and available to perform worldwide
Contortionist: Nicole PHOTOS
This amazing and breathtaking female contortionist has been described as "dominating the art like to other".  She has toured the globe with her unique show, to countries that include China, Taiwan, Thailand, France, Spain, Italy, Greece, Luxembourg, Malta, Switzerland, Monaco, Austria, UK, Netherlands, Cyprus ...
A graceful acrobat, she draws the audience in and casts her spell, as she performs her show with sensuality and elegance.  Ideal for events that need unique entertainment, including product launches, private parties, exhibition events, corporate functions etc ...
This contortionist has a range of options to suit the occasion;
Contortion on a glass piano
This show includes musical, as well as visual entertainment.  Together with a professional pianist, this female contortionist takes to the stage, delighting the audience with their artistic and musical ability.
Fire Show
This impressive show includes a fire performer alongside this talented contortionist.  The show is fully choreographed to music, and includes impressive pyrotechnics!!
BASF
Citroen
Fissler
Hexal
Hülsta
McKinsey
Porsche
R & V Insurance
Skoda
Schwarzkopf & Henkel
Telecom
VW
ARD
WDR
Kempinski
Dorint
Sheraton
Grand Hyatt
Allianz
BMW
German Post
Henke
Hugo Boss
Mannesmann
Mercedes
Raiffeisen Bank
SAP
Saturn
Siemens
Volvo
Wella
TV stations:
ZDF
NDR
Hotels:
Maritime
Intercontinental
Steigenberger
Radisson SAS...
Audi
" Unbelievable body control... breath-taking acrobatics. "

NRZ
" ... a veritable feast for the eyes with incredible agility ... a master of contortion. "

Hallo Sonntag - Hannover
" She demonstrated perfect body control. Her flexibility borders on anatomical wonder! "

Neue Presse Hannover
" This performer dominates the art like no other......she has great skill and graceful ... that is rewarded with great applause. "

Variete-Online