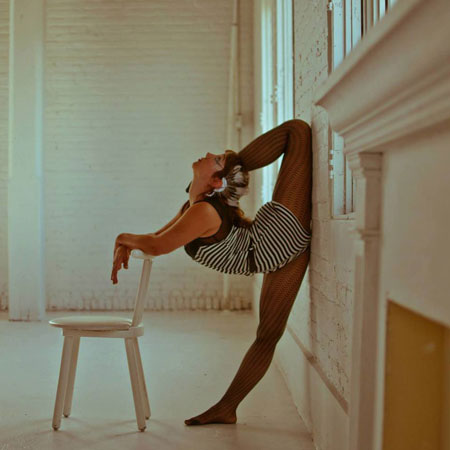 Contortionist Samantha
Began exploring the art of contortion at the relatively late age of 22
Travelled to China to train with the Beijing Acrobatic Troupe
Multi skilled performer in contortion, hand balancing and foot juggling
Produced her own circus cabaret show that sold out within 1 week
Based in Canada and available to perform at events worldwide
Contortionist Samantha PHOTOS
Initially falling in love with the physically intense dance style of Capoeira at the age of 19, Samantha didn't begin exploring the art form of contortion until the age of 22 - relatively late compared to most!
Not letting this hold her back, she quickly discovered that she had a natural disposition to developing to flexibility and travelled to China to train with the Beijing Acrobatic Troupe for a year in 2007-2008.
Falling in love with their devotion to their art and their command over their bodies, Samantha then went on to perform with Vancouver's Underground Circus at the 2010 Winter Games and the Vancouver Art Gallery, as well as independently in variety shows, cabarets and night clubs.
In 2010 she moved to San Francisco to train in contortion, hand balancing and foot juggling with world renowned Mongolian contortionist Serchmaa Byamba at the San Francisco Circus Centre. Just four years later in 2014, Samantha produced her own circus cabaret show, with 18 artists and musicians that sold out in less than a week!
Today, Samantha is a fully qualified teacher of contortion as well as an incredible performer. Her diverse background and late start to contortion diversify her techniques and approaches to using contortion as a tool for fitness, entertainment, art and health.