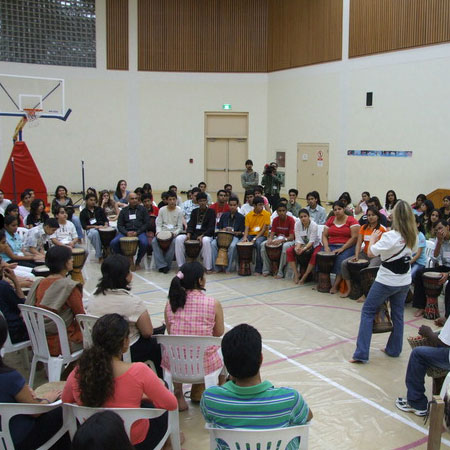 Corporate Drumming Dubai
A fun corporate team building activity ideal for international groups
Uses rhythm work & group drumming as an effective tool for team building
Promotes communication, creativity, teamwork & helps to energise participants
Previous clients inc. Red Bull, American Express, Emirates NBD & HSBC
Book our corporate drumming group for team building in Dubai & worldwide
Corporate Drumming Dubai PHOTOS
Drumming is one of the oldest known forms of team building. It is a powerful tool that when harnessed by one of our experienced drum circle facilitators can bring people together in a shared experience, and promote interpersonal communication and creativity. Participants will also learn new skills and feel energised at the end of the session.
One of the most active and exciting team building activities on offer, our percussion team building will introduce participants to the basic skills needed to sustain drum rhythms, teach them simple rhythms and encourage them to participate in 'rhythm games' which will allow them to explore and realise their true potential and drummers! As the session progresses the team will begin to drum in unison and progress to a point where they are able to access the skills required to successfully play polyrhythms, which are a collection of interwoven rhythmical layers.
Each corporate team building session will end of a high with each member having experienced success and unity through rhythm!
Why drumming as a corporate team building exercise?
It promotes cooperation and collective work over competition
It highlights the importance of truly listening to each other
It raises endorphins and quickly relieves stress
It helps people embrace their intuition and creativity
It's a powerful and unforgettable experience that unifies participants
It's suitable for groups as small as five and as many as a few hundred
It transcends all boundaries of race, religion, age, gender, social position
Book our percussion team building for incentive days in Dubai and the Middle East, as well as for away days and corporate days.
Global Village Dubai
Rashid Paediatric Therapy Centre
Virgin Air
Dubai Duty Free
Oracle
Schlumberger
HSBC
Nestle
Hilti
Dubai Islamic bank
Allied Enterprises
Red Bull
Proctor & Gamble
Emirates International Telecomm
American Express
British Petroleum
Hewlett-Packard
ABN Amro
Knowledge Village
JW Marriott Hotel
Crown Plaza Hotel
Emirates Bank
Autodesk
Emirates NBD