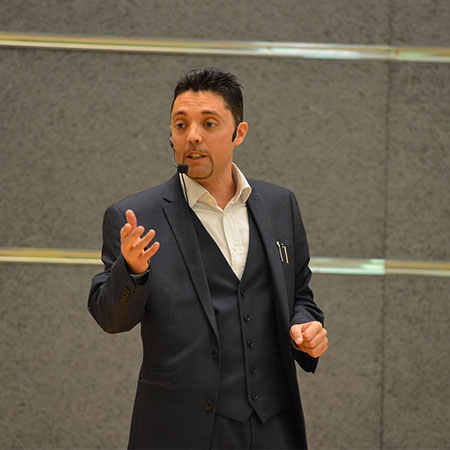 Corporate Mind Reader & Speaker
Sensational keynote speaker and mentalist will motivate your employees and help your business grow
This experienced mind reader has specialised in motivational mentalism and will share some techniques
His speeches focus on body language, persuasion and the power of decision making, among other topics
Illustrates all these concepts with metaphors and visual examples so ideas remain in people's head easier
This Corporate Mind Reader and Speaker is based in Naples and available for worldwide bookings
Corporate Mind Reader & Speaker PHOTOS
Are you looking for the right motivational keynote speaker for your event or conference? If inspiring and motivating your employees is what you're looking for, then this phenomenal Corporate Mind Reader and Speaker is the perfect presenter for your occasion.
This experienced after dinner speaker and motivational mind reader has specialised in motivational mentalism. As an expert is personal success, this bilingual keynote speaker and mentalist, who defines himself as a life coach, is fluent in both English and Italian. Some of the issues covered during his conferences and presentations include:
 Success definition
The power or decision making
Positive visualisation
Target setting process
Communication through body language
Logical persuasiveness
Team work principles
Time management skills
Steps towards better productivity
All the above topics will be deeply discusses and analysed. Our motivational keynote speaker will explain all these concepts with visual examples and will illustrate them with metaphors. With these techniques, this after dinner speaker will ensure all the different definitions and ideas remain in people head's once his conference is over.
Our motivational mind reader uses his experience and talent as a mentalist and mind reader to motivate and teach useful techniques but also to entertain audiences, ensuring his presentations are not only practical but also amusing. This eloquent and charming keynote speaker and mentalist is the right choice to help your business grow and motivate employees and increate their satisfaction and commitment.
Top Tip:
This keynote speaker and mentalist can also offer stage and close up mentalism shows. To find out more about this, visit his Mentalist Luca page.
Scarlett Entertainment offers a broad variety of after dinner speakers for events in Italy, the UK and all over the world.
Would you like this sensational Corporate Mind Reader and Speaker to host your event or conference? Then contact us and make an enquiry. Our in-house team of Entertainment Specialists will be delighted to provide further details on this talented motivational mind reader and assist you in the booking process.
" He is a total professional both as a businessman and as a mentalist. He is fast becoming one of the most respected professionals in the field of illusion. "

Jason Ring - WebMarketPower.com
" He is an internationally known mentalist and not only a great performer but also author and consultant to other performers around the world "

Paul Romhany - Author and Editor of VANISH MAGIC MAGAZINE
" His thinking is superb, his materials professionally themed and his work inspiring "

Alan Jones - Mind Coach & Change Wizard
" He is a bright star in the mentalism world with his original and creative work, and his engaging personality. He is an inspiration! "

Allen Zingg - HR Leader Senior Advisor
" His outstanding reputation proceeds him. Just a moment in person or with his clips will prove why and he is a nice guy too "

Marc Salem - International Mind Reader