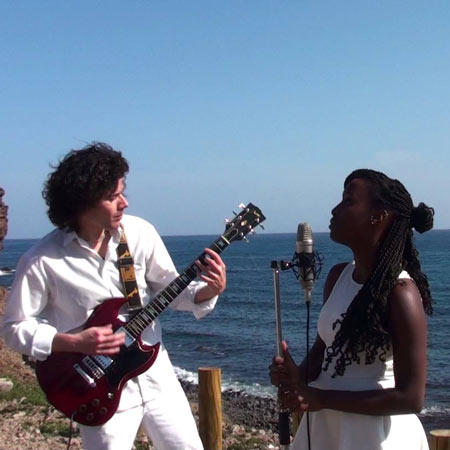 Covers Duo Barcelona
Captivating covers duo brings the warm, lively spirit of Barcelona to any event.
Covers band offers an exquisite selection of soul, blues and jazz covers and reinvented pop classics to suit any mood.
Sensational vocalist in this jazz duo was crowned Best Musical Actress in Africa
Original music duo offers unique and intimate take on familiar songs.
Fantastic function band based in Barcelona and available worldwide.
Covers Duo Barcelona VIDEOS
Book our scintillating covers duo for your function, party or event and give your guests an exquisite musical experience they won't soon forget. This sophisticated covers band plays a mix of classic jazz and blues favourites as well as reinventing modern pop hits into their signature style. Create an atmosphere of warmth and relaxation as this gentle, flowing music duo plays through their carefully selected repertoire of gorgeous music.
Our award winning international jazz duo have a wealth of musical experience and have collaborated for years, honing their intimate and refined style of covers. The warm, easy-going sounds of this fantastic function band is the perfect accompaniment to relaxing dinner parties in the afternoon sun, or for bringing the carefree spirit of their hometown of Barcelona to events worldwide. 
Our internationally acclaimed jazz duo consists of a stunning female vocalist accompanied by bluesy electric of gentle acoustic guitar. Our sensational Zimbabwean born vocalist was crowned "Best Musical Actress in Africa" in 2013 and you'll understand why the minute you hear her soulful, captivating voice. Our talented guitarist makes the perfect accompaniment, having worked as a studio musician for years and toured internationally.
Together this music duo creates a unique and appealing sound that audiences anywhere will adore. No other function band can blend this level of vocal and musical talent to create a soulful, joyful atmosphere to keep your event lively all night. This covers duo has a repertoire of over 100 songs, carefully crafted to suit your event. Well known jazz, blues and soul classics and pop covers are all given a unique and creative twist by this fantastic covers band.
Scarlett Entertainment brings you the best covers singers, duos and bands to suit the mood at any event.
Contact our team now to find the right music for your event.