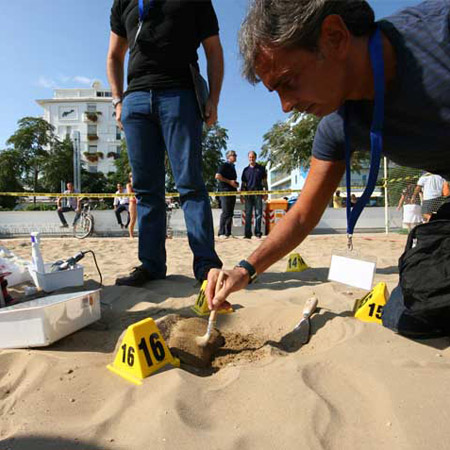 CSI Team Building Exercise
Analytical CSI team building challenge designed to increase engagement amongst participants.
A fun team building activity that introduces new core teamwork skills.
Interactive corporate entertainment to help build stronger bonds.
Company team building sessions that help everyone cooperate.
Book team building games for events in Italy and worldwide.
Looking for a fun team building activity? Book our exciting CSI team building exercise that's sure to have your peers working together with ease. Our one of a kind corporate entertainment specialists will put together various investigation teams ranging between 8-15 people that will have to analyse the crime scene, collect information on multiple sets, solve mind boggling puzzles and quizzes to catch a crazed criminal.  Including team building games this company team building activity creates bonds and ignites skills that are transferrable to the workplace. 
 
Our team building games promote cooperation and fun as teams will race against each other for their own claim to fame. This very unique company team building activity is sure to have your employees working together, building stronger workplace bonds, and having a good time.    
The plots we provide are different each time to create an encompassing experience that's fully customisable to your own preferences and activities. Once teams are finished finding clues and analysing crime scenes they'll have to fill out a report that documents everything they've found out, who ended up being the criminal, and how they solved the case.  
 
Our activities can be done both indoors and outdoors to accommodate any weather problems or personal preference. In more detail, our activities will provide finger printing, UV wood lamps, witness questioning, phone transcribing, GPS searches, evidence recovery, rescue missions, footprint analysing, and more. As you can tell, we come prepared to give your team the best CSI experience.  
 
Our phenomenal team building games are suitable for anyone and will provide physical games for those youth minded participants and some challenging intellectual trials for those wiser guests too. If you're interested in booking our fun and entertaining CSI Team Building Exercise contact one of our wonderful Scarlett Entertainment team building experts that's more than happy to help you finalizse all booking details for your upcoming event or gathering.