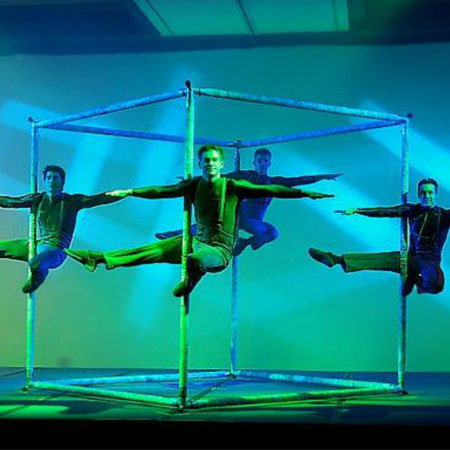 Cubed Acrobats
Fast paced, high energy cubed acrobatic show. Perfect for corporate events
Can perform a acrobatic cube act or a traditional Chinese pole act
Performers climb, twist, flip & turn on the cube
Previous clients inc Universal, BMW, Disney, NBC, MasterCard, NBA
Based in the US & available to perform at events worldwide
The Cubed Acrobats have been serving the private party and corporate event industry since 2000. They specialize in making your show exciting and unique. Their acrobats are reliable and some of the best athletes in the world.
Acrobatic poles have been around for many years. Mastered and created by the Chinese for well over 500 years, this act has been a traditional part of the circus as well as incorporated into the cirque styles of today. This act will amaze the audience as these performers climb, twist, flip and turn on the cube. These acrobats display strength and tremendous focus as they perform this entertaining act. It's fast paced, high energy and full of fun.
The Cube Act
The Cube Act is an original creation of Steve Gale. The Cube Act is free from external rigging which makes for a smooth transition on and off stage. The Cube has an outside dimension of 8' x 8' x 8' giving a huge presence as it is manipulated around the entire stage. While weighing only 85 pounds it is easily moved on and off stage. In recent years Cirque Du Soleil has adopted this act into their corporate entertainment department.
Traditional Pole Act
The traditional Pole Act consists of a single or multiple poles where the pole has a height of 15-21 feet or 5-6 meters and is guided down with cables. This act differs from the Cube Act in it's ability to have the performers jump from one pole to the other, and also has vertical drops and slides which adds an element of danger.
BMW
Chopra Center
Harley Davidson
MasterCard
Raytheon
Sea World
NFL
Saba
Sun Microsystems
Toyota
Chevrolet
Disney
NBC
Harrah's
Mazda
NBA
NHL
Six Flags
Universal