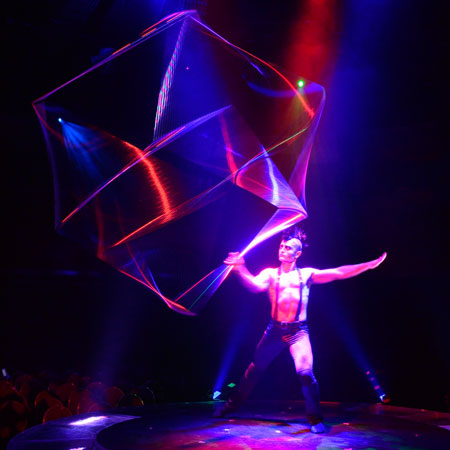 Cubique
Twisted manipulation and juggling of transforming geometrical shapes
They spin in a way that reflects light which makes them seem unreal
Creates a mind-bending visual illusion
Presented as part of Le Grande Cirque show on stage at the Palace Theatre
Based in Las Vegas and available to perform at events worldwide
Introducing an act unlike any other - a twisted manipulation and juggling of transforming geometrical shapes (cube, pyramid, sphere and square) creating a mind-bending visual illusions. 
This unique act is based on the way we perceive and the way we interpret. It's all about what we see or what we think we see.  The motion of three different geometrical shapes through the air creates astonishing visual effects.
They spin in a way that reflects light which makes them seem unreal.  Years of continuous training, inventing and creating resulted in this act that combines sensational effects and precision handling of these unusual transforming props.  It is something that you have to see to believe!
The more different ways the shapes are lit the more amazing visual effects they form.  There is virtually no limit to how many surreal illusions this act can create! 
This act is the most technically advanced of its kind with number of different unique transforming shapes and technical innovations.  At the same time this act is extremely mobile and adaptable to almost any performing environment.
Contact our team of Entertainment Experts who will be more than happy to help with your enquiry.
Le Noir - "The Dark Side Of Cirque" World Tour
Le Grande Cirque (Various Venues)
Conelli Circus Switzerland
Cirque du Soleil (ZAiA) Macao
Flic Flac Circus -  Germany
LIGHT by Cirque du Soleil Las Vegas (Guest Performer)
Jubilee! Las Vegas (Guest Performer)