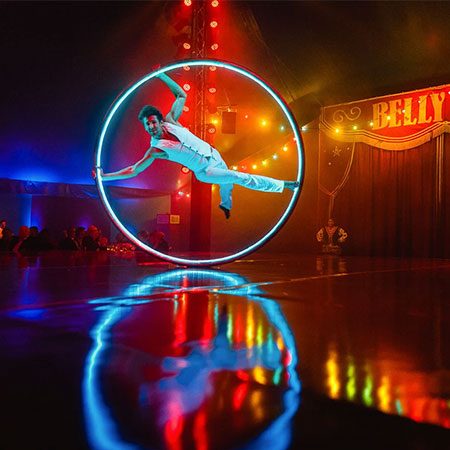 Cyr Wheel Acts France
Unique circus acts performed by ex Cirque du Soleil Artist
Two unique and completely exclusive Cyr Wheel Acts are available
Fire Wheel stunt act: only three artists in the world can perform!
An exciting new circus discipline, largely undiscovered by audiences
Based in France and available to perform at events worldwide
Cyr Wheel Acts France PHOTOS
Invented less than 15 years ago, the Cyr Wheel is an exciting new circus discipline and largely undiscovered by audiences. In addition to Classic Cyr Wheel Shows, the company performs with two unique hybrids. The LED Cyr Wheel & the Fire Cyr Wheel are completely exclusive designs. Within two years of their creation, the LED Cyr Wheel and Fire Cyr Wheel Acts have been performed at private parties and corporate events in Dubai, Instanbul, Mumbai, Nigeria, the USA, and at multiple events across Europe.
Cyr Wheel With A Splash Of Colour:
The LED Cyr Wheel brings the bold elegance of the Cyr Wheel into a vibrant new realm. The fully programable LED System caters to event themes and music in vivid new ways.
The Fire Cyr Wheel fuses the daring and grace of the Cyr Wheel with the majesty of fire. Srikanta is one of only three artists in the world who can perform this act.  Show your audience something they've never imagined!
Both wheels can be combined to create a spectacular show that will WOW your guests, or can be tailored to suit a theme or particular event. LED wheels can also be branded to incorporate a company logo for corporate functions or product launches...the ideas are endless! 
To book our daring Cyr Wheel act or for more information, contact our Entertainment Specialists.
Samsung
Club Ultimate
LNH
Sony
Blackberry
Cirque Du Soleil
Simon Youth Foundation
and many more...
Adobe