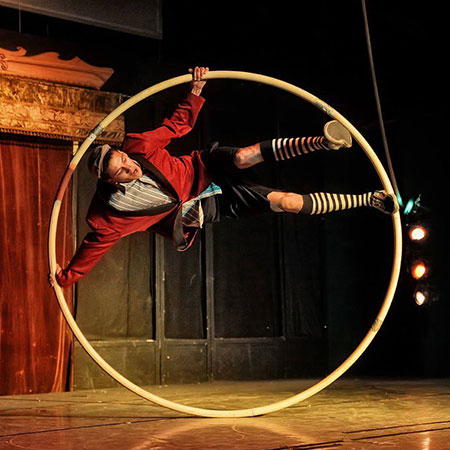 Cyr Wheel Artist Spain
Extremely skilled and creative Spanish circus performer delights with his incredible cyr wheel routines
Happy to customise his cyr wheel act by wearing branded clothing or costumes that fit your theme
Artist demonstrates the incredible possibilities of the human body by maneuvering himself into a variety of impossible positions
Perfect live stage entertainment option for galas, themed events, dinners, corporate events, private parties, etc.
This Cyr Wheel Artist is based in Spain and available for international performances
Cyr Wheel Artist Spain PHOTOS
Amaze guests at your upcoming event with the incredible talents of this Cyr Wheel Artist from Spain, a skilled Spanish circus performer is able to captivate onlookers within seconds!
Especially loved by circus enthusiasts, this cyr wheel acrobat always earns the applause of audiences of all sorts and ages. Completely fascinating to watch, this acrobat high-energy cyr wheel acts are a display of strength and balance.
Happy to collaborate with other circus artists, our circus performer always welcomes the opportunity to be part of variety shows or circus productions. He can also tailor his circus performance to fit your theme or match the tone of your event by wearing branded clothing, costumes or make up! He can also perform to a chosen soundtrack or even perform with live musicians.
A cyr wheel performer that always meets and exceeds audiences' expectations, he elegantly moves across the stage demonstrating the incredible possibilities of the human body by maneuvering himself into a variety of impossible positions. A show that will instantly become the highlight of your event, this skilled cyr wheel acrobat can create memorable and long standing memories with his assortment of body bending routines.
Ideal live stage entertainment for a variety of celebrations, this cyr wheel act is suitable for events of all kinds including corporate events, weddings, private parties, nightclubs, and more! Whatever the occasion, our Spanish circus acrobat is guaranteed to leave audiences wide-eyed and talking about your event for years to come.
Scarlett Entertainment offers a wide range of live stage entertainment options for events and occasions in Spain and all over the world.
Book this Cyr Wheel Artist from Spain by contacting us today. Our dedicated team of Entertainment Specialists will be delighted to provide further details on this Spanish circus performer and assist you in the booking process.