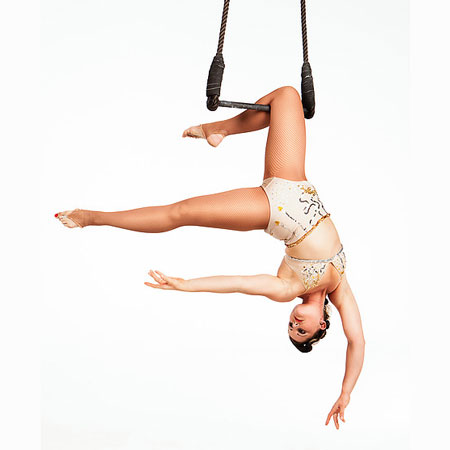 Dance Trapeze Act Australia
Exceptional aerial act that will entrance your guests with beautiful visually appealing stunts.
Incredibly talented trapeze artist will captivate and amaze with aerial dance routines.
Performing with dynamic acrobatic qualities, our trapeze performer will leave a lasting impression.
Perfect circus act for private parties, themed occasions, festivals, corporate events, and more.
Fantastic trapeze act available for booking across Australia and worldwide.
Book our fantastic trapeze artist and watch as she flies through the air with incredible amounts of grace, elegance, and sophistication! Our wonderful trapeze performer will perform a dangerous and daring trapeze act that is sure to add an extra level of awesomeness to your upcoming event or gathering, bound to leave behind a lasting impression and unforgettable memories. Guests will love the dedication our trapeze artist applies to her jaw dropping aerial act. A wonderful circus act that will take your special event to the top, providing a powerful wow factor experience that you are looking for.
A magical trapeze act that will put your audience in a trance as our trapeze artist flows through the sky, spinning and twirling her elusive aerial swing. Our remarkable trapeze act is built around a beautiful mix of contemporary dance and the more traditional high flying circus act, a dazzling aerial act that is filled to the brim with skilled tricks that are performed with fluidity and grace. Our trapeze performer can perform her daring stunts with or without a winch system or counter wait, making our fantastic trapeze performer a truly remarkable entertainer that has mastered her specific performance.
Our lovely aerial act can be tailored to fit most themes and styles, as our sensational trapeze artist can cater to most occasions, creating a unique and refreshing experience that will have your guests creating endless conversational topic starters, as they are instantly captivated by our gorgeous performer. Performing dynamic acrobatic tricks high above the ground is an act that is bound to become a memorable experience, remembered for years. The perfect circus act for private parties, gala dinners, drink receptions, corporate events, family days, theatre performances, themed occasions, and a lot more.  
If you are interested in hiring our fantastic trapeze artist for your upcoming special occasion, contact any of our incredible team members who will be more than happy to answer your questions, and guide you through our booking process.