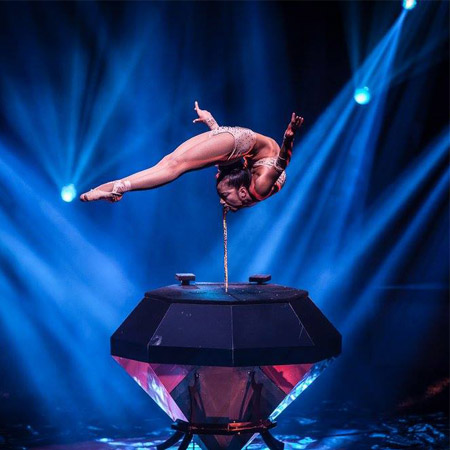 Diamond Ballet & Contortion Act
Dazzling contortion act that'll amaze guests with elegance and ease.
Talented contortionist will captivate with her body twisting and balance routines.
Adaptable ballet show that will fit most themes and styles.
An exceptional ballerina ideal for theatre performances, corporate events, private parties, etc.
Delightful contortion entertainment available for booking across France and worldwide.
Diamond Ballet & Contortion Act PHOTOS
Book our talented contortionist who will provide your upcoming special event or social gathering with a fun and remarkable entertainment experience. Our talented and skilled contortion act will blow your guests out of their seats, leaving them with wide eyes and jaws on the floor as she performs a fantastic balance contortion performance that utilises a dazzling centre prop piece designed as a wonderful diamond. Our contortionist also doubles as a skilled ballerina that combines her contortion act with a dazzling and awe inspiring ballet show, a unique and memorable contortion entertainment experience.
Twisting her body in a variety of shapes and forms, our skilled contortionist holds a variety of outstanding athletic abilities that allows her to perform an assortment of body bending manoeuvres, that includes spinning herself around with just her mouth! An exceptional ballet show and contortion act that features a mixture of eye catching and unusual routines that are always being perfected, and that can be adaptable to fit a variety of different themes and styles. Our ballerina has taken her contortion entertainment experience around France performing at a variety of circus shows, cabaret events, and festivals.
Our phenomenal contortionist and ballerina is bound to "wow" your guests and provide your upcoming special occasion with a resounding "wow" factor experience that will continue to help our entertainer impress and captivate with ease. Delivering an incredible performance that showcases her impressive flexibility and unique feats of strength, endurance, and supreme balance. The ideal contortion entertainment experience for private parties, festivals, themed occasions, corporate functions, theatre performances, cabaret shows, and much more. 
 
If you're interested in booking our epic contortionist and treating guests to a unique contortion act and ballet show that'll keep them talking and engaged, contact any of our wonderful entertainment experts who'll standing by to help guide you through our booking process, and are more than happy to answer any questions you might have.