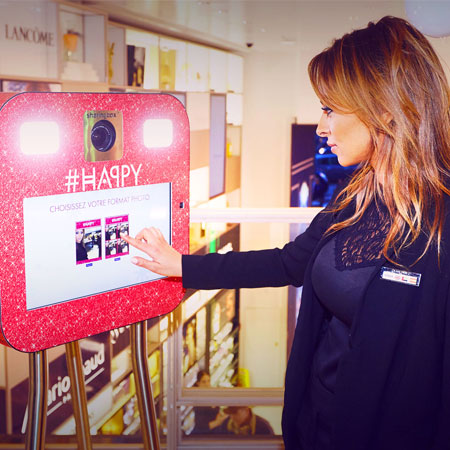 Digital Share Photo Booth
Digital share photo booth brings event photography into the modern age with its variety of portable options & contemporary design
Ideal for event marketing, branded photos can be uploaded to instagram & printed at your event
Available in a variety of sizes, each mobile photobooth contains customisable panels, built in lights & high quality cameras
They have worked with all the big names including Porsche, Superdry, Levi's, Gyvenchy & Facebook
Hire photo cabins for your event in Brussels or worldwide
Digital Share Photo Booth PHOTOS
Award winning global entertainment agency Scarlett Entertainment provide entertainment solutions for a wide variety of corporate and private events within Europe and internationally. A marketing leading mobile photobooth, Digital Share Photo Booth has taken the event industry by storm, offering clients the opportunity to capture their function whilst simultaneously promoting their company. Providing a playful form of event marketing, the customisable photo cabin supplies branded photos, available to print on location. 
Offering a unique experience for users, this range of mobile photobooths can be completely customised to incorporate your company's logo or to accommodate the theme of your event. 
The different types of photo booths available include
- The "Original": Featuring 4 customisable panels, a touch screen, built in printer, flash and light.
- The "Mini": Ideal for children's events or small venues, the mini contains 2 customisable panels, a touch screen, built in printer and lights.
- The "Maxi": 2 large customisable panels, printer, flash and lights. This booth option is very durable.
- The "Media": 2 customisable panels, lights and a removable foot. Extra thin booth has option to add an external printer. 
- The "Mobile": As it says on the tin- this booth is 100% wireless, making it ideal for outdoor events.
- The "Cabin": A full photo cabin, this booth has 5 customisable panels, branding inside and outside, a printer, glass and outside screen. 
In addition to the extensive range of booths available to hire, you can also rent optional extras alongside. Instagram printers, green screens, and props are all available to increase the reach and effectiveness of your event photos. A truly fantastic event marketing event option, not only do the personalisable booths and branded photos help to raise awareness of your business, the reach of the photos through different social media channels, online gallery and targeted emails makes them in an invaluable tool for making sure that your event is remembered for a long time to come.
The go to event photo provider for the likes of Porsche, Google, Superdry, Renault, adidas, Facebook and more, the long list of high profile clientele only goes to demonstrate the effectiveness of the Digital Share Photo Booth for making your event or company stand out from the crowd. The ideal addition to product launches, shop openings, exhibitions, sporting events & corporate functions, bring your brand to the fore in an entertaining way.
To find out more about the technical requirements of booking one of our fantastic photobooths for your event, don't hesitate to contact our expert team at Scarlett Entertainment today.
Superdry
Facebook
Deezer
adidas
Burger King
Elle
fiac
Guess
Manoush
Renault
& many more
Porsche
Gyvenchy
Reebok
Dior
cacharel
Simply You
Etam
Google
Ice Watches
Martini
Sephora
Levi's