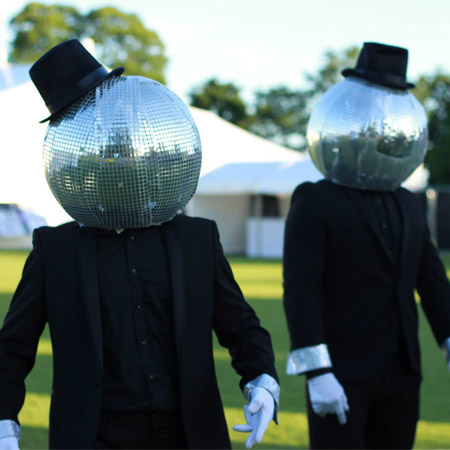 Disco Heads Walkabout Act
Wonderfully creative walkabout entertainment that will delight guests at your event.
Disco head stilt walkers love to dance and make there way through the crowd bringing guests together for unique photo opportunities.
Perfect eye catching roaming characters can perform as a stilt act for added impact.
Fun mix and mingle interactive entertainment is ideal for weddings, private parties, and more.
Book roving performers ready to engage with guests at events in the UK and worldwide.
Disco Heads Walkabout Act PHOTOS
Our unique walkabout event entertainment option is inspired by everyone's favourite '70s dance light projection tool and is sure to captivate guests as their extremely detailed head piece provokes dancing. Our roaming characters are available as standard on foot performers but can also strap up and become breath taking stilt acts that will give your event the real '70s experience of a hovering disco ball. Our stilt walkers are highly skilled and will mix and mingle with guests, bringing fun interactive entertainment to your event.
Our sensational disco heads walkabout act features cheeky costume characters and fun props that include a collapsible cane that gives our stilt walkers a dash of class. Our unique walkabout event entertainment is complete with a top hat and tailcoat, but also provides a variety of other costumes to fit within most themes, an easily customizable experience that's only topped by our stilt acts' available dance routine that will get guests on the dance floor as our roving characters take to the floor to keep the party moving and grooving.
Our disco ball stilt entertainers are the perfect choice of interactive entertainment if you're looking for a unique way to greet guests at the front door or keep them on the dance floor, our stilt acts' unique meet and greet experiences will have guests lining up to snap a quick photo with our cheeky disco heads. Our phenomenal stilt entertainment is ideal for award shows, private parties, themed events, corporate events, and many more, and is also able to be combined with the numerous other acts provided by Scarlett Entertainment.
If you're interested in booking a truly unique act that will leave lasting impressions on guests, contact our event team specialists who will be more than happy to answer any questions you might have about our stilt acts, as well as help you book your entertainment choice.