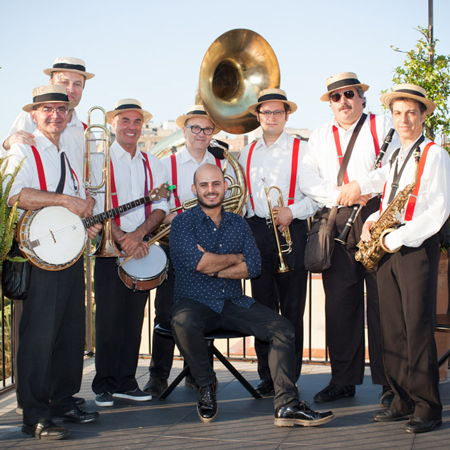 Dixie Jazz Band Barcelona
Sensational Dixie jazz band will delight guests with their upbeat and easygoing sound
Authentic Dixieland jazz captures the sounds and spirit of New Orleans in a brilliantly vintage performance
Stylish New Orleans jazz band perfect for weddings, festivals, corporate events and private parties
Mobile and versatile swing band can perform outside or on the move making them a great parade or roaming band
Smooth and cool jazz band available for performances worldwide
Book this swinging Dixie jazz band for a knockout performance of vintage old school jazz at your event. Our fantastic jazz band perfectly captures the sounds, songs and style of old New Orleans jazz and is sure to delight audiences anywhere with their stylish performances and first class musicianship. This New Orleans jazz band are a delight for jazz fans anywhere and their upbeat, easygoing sound will appeal to any audience and any occasion.
Guests will love the delightfully vintage atmosphere created by this authentic swing band and their performances are great for enjoying at a whole range of events, whether its stage performances at weddings, festivals and dinner parties or mobile performances at parades, conventions our outdoor events. Book this talented and suave band for a refreshingly smooth and cool performance of the best Dixieland jazz from the golden age of swing.
Our stylish and talented Dixie jazz band is just the thing for setting a relaxed, carefree atmosphere at your event. Their smooth and upbeat sounds make for great easy listening at dinner parties and fancy drinks receptions, yet their extraordinary talents and dazzling solos are impressive enough to take centre stage at any jazz festival or music night. 
This New Orleans jazz band features the full range of brass and woodwind instruments alongside percussion and banjo for a deliciously warm and vibrant sound that works anywhere- no need for PA systems and microphones. Take our fantastic swing band outside for a stylish parade or a classy performance at garden parties or street festivals. This cool and professional jazz band is the leading purveyors of Dixieland jazz worldwide and their shows are not to be missed.
Scarlett Entertainment offers you a fantastic selection of jazz, blues and swing bands in a range of classic and modern styles.
Contact our team to arrange booking one of our amazing acts.