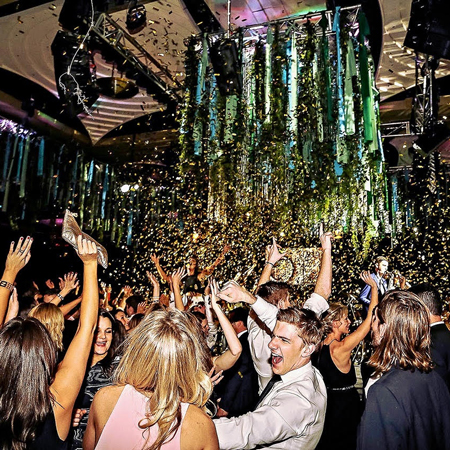 DJ Band
Unique party band performing Top 40 favourites through to chilled cocktail
A mixture of world class musicians performing alongside a DJ
Popular with Corporate Events, Private Parties and Weddings
Clients include Lexus, BMW, Spring Racing Carnival, Crown, Jack Morton…
Based in Australia and available for events world-wide
The DJ Band are one of Australia's hottest live acts, creating serious buzz for their amazing live shows and performances of club style music, this party band in Melbourne have grown a loyal fanbase!
These talented DJ and Musicians were formed by a soulful powerhouse singer and passionate DJ & percussionist, and have quickly created a name for themselves as world class musicians with a talent for incredible live performances.
By combining a DJ with live musicians you really do get the best of both worlds. Being able to adapt their show to suit the vibe and energy of the night, this group is a perfect feature for a wide range of events. With a diverse music range they can cater to any vibe, from chilled house through to modern dance party favourites. 
DJ Band have performed for a broad range of high profile events, opening for Sneaky Sound System on New Years Eve to rocking the Lexus marquee during the Spring Racing Carnival. With thier powerful club style music, some of Australia's biggest brands and events have capitalised on their live show, as their adaptable performance can be tailored to suit any vibe and energy your event desires!
Bringing their show to audiences worldwide, these two performers have built a sound and a live show that is unrivalled in todays scene. 
This incredible DJ and live Muscians are available to be booked as a 2 piece through to a 6 piece, with a versatile line up they are the perfect corporate party entertainment.
Their versatile line up includes:
2  piece - DJ, Vocals 
3  piece - DJ, Vocals, Percussion 
4  piece - DJ, Vocals, Percussion, Saxophone 
5  piece - DJ, Vocals, Percussion, Saxophone, Electric Guitar
6 piece - DJ, Vocals, Percussion, Saxophone, Electric Guitar & Strings
Top Tip
Not sure which line-up is best suited to your event? Talk to one of our experienced entertainment co-ordinators and ensure that you've got the right choice to compliment your event, venue and audience.
Contact one of our Entertainment team who will be able to assist in booking this or any other act on our global roster.
AFL SEPTEMBER CLUB
ETIHAD AFL GRAND FINAL BRUNCH
GUVERA FOR MOONEE VALLEY
JAMIE DURIE
MASTERCHEF AUSTRALIA
NINE NETWORK
SEVEN TELEVISION NETWORK
SPRING RACING CARNIVAL (BIRDCAGE)
SYDNEY MARDI GRAS
VIRGIN AFL GRAND FINAL PARTY
BMW
FASHION AID
JACK MORTON WORLDWIDE
LEXUS
NETWORK TEN
PIRELLI FOR FORMULA 1 GRAND PRIX
SNEAKY SOUND SYSTEM NYE (SUPPORT ACT)
ST. COLLINS LANE LAUNCH
THE REACH FOUNDATION
VRC YOUNG MEMBERS
" Wow, this is really an amazing voice! Katherine's voice immediately struck me… "

Barry Eastmond – Multi Grammy Award Winning producer and songwriter for Whitney Houston, Aretha Franklin, Brandy and George Benson.
" DJ Band are AMAZING!! Love them!! "

Jamie Durie, Australian award-winning international horticulturalist, landscape designer & television presenter
" Katherine's voice comes along once in never… "

Ron Fair – Executive Vice President at Virgin Records USA, and one of the worlds top music producers for Christina Aguilera, Mary J Blige and the Black Eyed Peas.