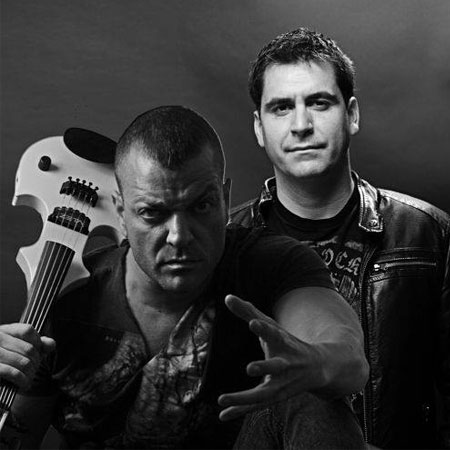 DJ & Electric Violin Duo
Two of Spain's leading club performers, this electric string and DJ duo create a buzzing atmosphere at events
Our professional DJ mixes genres like house, dance rock, hip hop, and electro music with live violin
A fantastic corporate entertainment option, our DJ with musician supply irresistible tunes than will get your guests dancing
Between them our duo have provided club shows for at the likes of Amnesia club, Ibiza Discoteca and Heat Club
Book DJ & Electric Violin Duo for events in Barcelona and worldwide
DJ & Electric Violin Duo PHOTOS
Our professional DJ and electric string artist are superb in their own right but when they combine forces, these two are unstoppable! Having collaborated on numerous acclaimed albums and toured the event scenes, providing amazing club and corporate entertainment at venues on every continent, our DJ & Electric Violin Duo are truly some of the best in the industry. In high demand to perform at VIP parties and the hottest clubs on the globe, this professional DJ with musician bring down the roof every time they join forces.
Bringing the unstoppable beats of a DJ set in line with the showmanship and musicality of an electric violin show, this act has the look and sound to bring a party atmosphere to literally any occasion. Like one seamless being when they perform, our professional DJ and electric violinist show how powerful true friendship is when creating incredible music. The combination of adept mixing with live improvised electric strings has the ability to make even the most choosy audience go wild. 
Having produced a number of albums together, which have become the go to listening for most of Ibiza and Las Vegas' seasoned clubbers, our DJ with musician combo supply the hottest club, house, disco and tribal mixes to make your event stand out from the rest. Having performed in the world's best clubbing spots such as Amnesia club, Ibiza Discoteca and Heat Club, this dynamic pair are recognisable faces within the events industry.
Regularly booked to provide the soundtrack to luxury product launches, company parties and venue openings, our professional DJ and electric violinist are one step ahead of other corporate entertainment providers out there.
If you would like to learn more about this wow factor DJ & Electric Violin Duo, don't hesitate to get in touch with our team at Scarlett Entertainment.
Discoteca B3 Sevilla
Ibiza Club Odessa
Project Club London
Venues
Heat Club Montpellier
Icon Club Moscow
Cavalli Club Dubai
Amnesia Club Ibiza